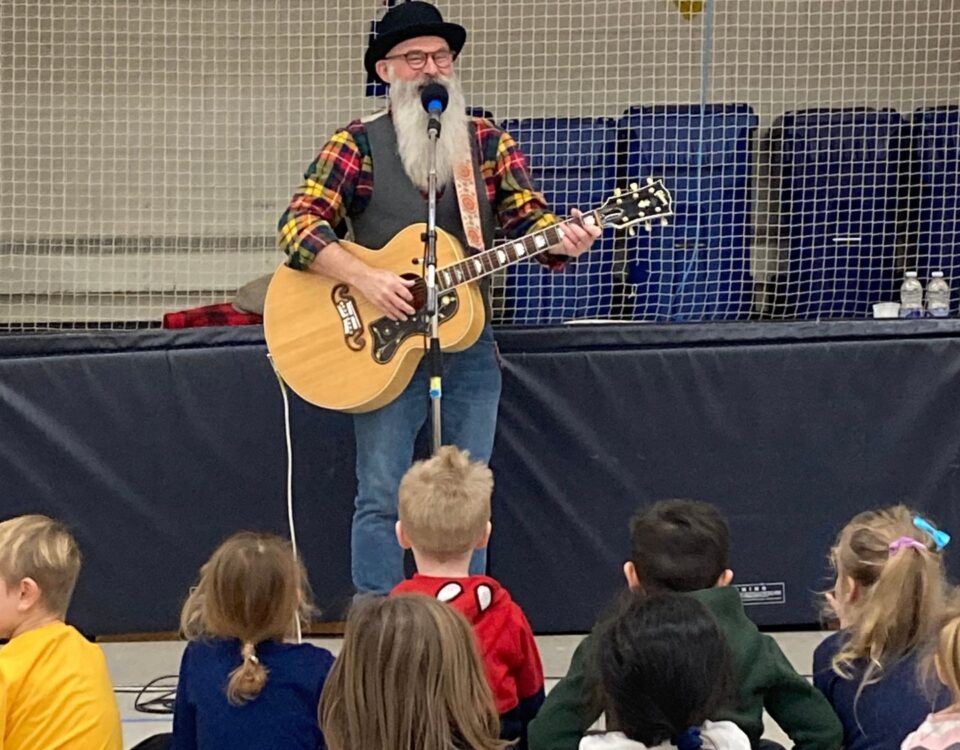 The Quinte Arts Council (QAC) programming includes the popular Umbrella Magazine, highlighting local arts and culture in print, the juried art shows Expressions and Quinte Art En Plein Air, as well as Artists in Schools. Artists in Schools gives students in the Quinte region a chance to interact with artists, from making pottery, learning about the art of different cultures or listening to and singing along with musicians to help foster an appreciation and love of the arts. 
The pandemic hit this program particularly hard as schools shut down and classes pivoted to remote learning; there was no chance for students to meet with artists in person. 
Now that schools are back open, the Artists in Schools program is once again connecting artists with children in schools, giving those kids an opportunity that has been missing for the past two years.
Recently, local celebrity, family entertainer and musician, Andy Forgie performed at Prince of Wales School for a gym full of young students.
"Performing live in concert for the children, after all this time, is pure magic!" says Forgie about how great it is to be doing what he loves. 
If you would like to listen to Forgie's children and family music but haven't had the chance to see him at a school, two of his CDs have been reprinted. "My Stuff" and "The Street I Lived On" are available by contacting andyforgie@gmail.com. 
The Artists in Schools program gives hands-on arts and culture experience to students. Whether it's crafting something and experiencing visual arts or joining together with a musician and raising their voices in song to experience the performing arts, students get to take part in all forms of the arts. As costs are cut at schools and programs are removed, being able to provide students with a chance to experience the arts first hand is crucial. 
"Andy Forgie provided students with an interactive concert for students in
Kindergarten through Grade 3 and our Resource Program. Andy kept the students
completely engaged throughout his time with them. He provided experiential learning
through storytelling, singing, dancing and audience participation" says Sabrina Jovic, a teacher at Prince of Wales School. "This is what inclusion looks like. When we were singing together, there was a sense of community that has been missed. In this space, everyone was moving together through the joy of live music."  
Students were asked what they liked about having a performer in the school. Forgie encourages students to participate in the music, to sing along and get up and dance. Students are encouraged to be part of the moment, to build a lasting memory together, and to just have fun. 
"My favourite part was the music when we were singing together" says a five-year-old-student at the school. 
"I liked his singing and guitar. I liked singing Christmas songs" says a 7-year-old-student at the school.
"I loved the singing. I never sang so much in my life" says an 11-year-old-student at the school. 
Programs like Artists in Schools rely on donations from the community to keep running. If you would like to donate to the QAC to help fund programming, and to keep the arts alive in this community, fostering a sense of creativity and inclusion for children, please consider donating by going to https://donorbox.org/qac-donation 
---
---
---