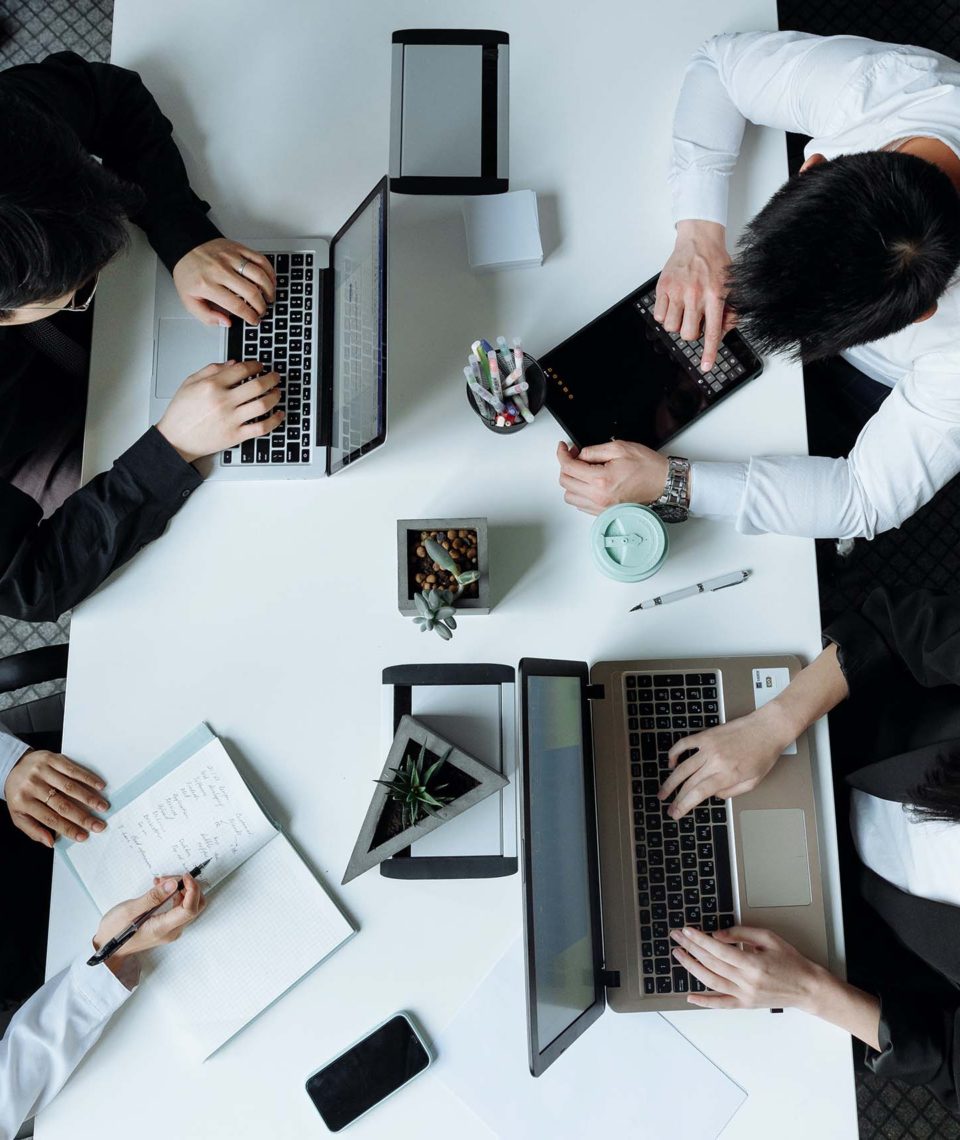 Governance
The QAC is governed by a volunteer board of directors and relies on volunteers to assist the team with programs and special events. Our revenues come from government at the municipal and provincial level, sponsorships, foundations, memberships and donations.
The Quinte Arts Council is a registered charitable umbrella organization (#107869448RR0001) dedicated to promoting artists and arts organizations in all disciplines and to further appreciation of arts and culture in the Quinte region. The geographic region we serve is from the southern-most tip of Prince Edward County, north to Bancroft and east and west from Napanee to Brighton.
Andrea Kerr
Andrea is the past Learning Support Coordinator for the Arts, Libraries, Literacy, and Technology at Hastings and Prince Edward District School Board. She supports Arts Education in Kindergarten through to Grade 12, connects classrooms to local artists, and facilitates opportunities for students to participate in gallery visits, cultural events, and performances in our community.
Andrea believes students should view and understand artistic expression from multiple perspectives and create for an audience beyond the school walls. The Arts surround us and creativity can be fostered and learned across all disciplines, so that our students will be able to value, question, generate, challenge, and extend ideas. She has recently been promoted to Vice Principal.
Andrea has worked with several organizations to co-plan student events such as the HPEDSB Bandfest, Annual Secondary Art Show at the Parrott Gallery, and the Downtown Belleville Student Art Show.  She is currently working on projects to support Indigenous arts and expression, and the use of technology to transform, document, and assess the creative process. Andrea has been on the QAC Board since June 2015.
Close Modal
Rick Moulton
Rick was born in Toronto and moved to the Quinte Region as a child. He graduated from BCI&VS, and has a diploma from Seneca College, a B.A. from Queen's University, a B.Ed. from Nipissing University and an M.Ed. from Queen's University.
Rick has been working part-time as a professor at Loyalist College of Applied Arts and Technology in Belleville since retired from Hastings and Prince Edward District School Board in 2015, after a 32-year career. As a secondary school teacher Rick taught Visual Art, Stage Design, Computer Art and Communication Technology. At Loyalist he has taught numerous media courses in Art and Design as well as Photography and Art general education courses.
Rick, along with his wife Dr. June Rogers, have an 80 acre farm in the Stirling area with horses, dogs and cats. He has been an Auxiliary Police Constable with the Ontario Provincial Police and is an active member of the Porsche Club of America – Upper Canada Region. He also plays blues harp in a rock band. Rick has been on the QAC Board of Directors since 2019.
Close Modal
Maury Flunder
Maury was born and raised in Belleville. He attended McMaster University graduating with a Bachelor of Commerce in 1993. He went on to obtain his CMA/CPA certification in 2000. Working at Nortel in Belleville from 1996 to 2008 exposed him to the Quinte Arts Council's strong engagement with business through community festivals such as Two Weeks in May and local rotating art on the walls of Nortel.
Maury has been a volunteer board member and treasurer with the Quinte Film Alternative, helping bring the best of Canadian and international film to Belleville. He has engaged with the Downtown Belleville Business Improvement area as a board member, he is a heritage building owner and contributed variously to festivals and events in Belleville, including the odd ice sculpture, over the last 15 years. Maury has been on the QAC Board since 2019.
Close Modal
Taylor Pender
Taylor grew up in Belleville. She graduated from Nicholson Catholic College before obtaining her Bachelor of Arts (Honours) from Queen's University.  She obtained her Juris Doctor from the Bora Laskin Faculty of Law. Taylor is currently employed as an Associate Lawyer at Henderson Williams LLP, where she worked both prior to and throughout law school.
Since a young age, Taylor has enjoyed being involved in and giving back to the community.  She has volunteered to assist many not-for-profit organizations both administratively and hands-on at various charitable events.  During her time at Queen's University, Taylor served as a board member for the Queen's Federation of Charitable University Students where she helped raise funds for not-for-profit organizations in the Kingston area.  During law school, Taylor was a caseworker at the Lakehead University Community Legal Services Clinic, where she was able to provide legal assistance to low income residents of the Northwestern Ontario.
Close Modal
Emebet Belete
Emebet Belete is an artist and educator who was born in Addis Ababa, Ethiopia. A graduate of the Addis Ababa Fine Arts School, she received her BFA (Honours) and B. Ed from Queen's University, Kingston, Ontario. She has exhibited in Ethiopia, Zimbabwe, France, China and Canada.  She uses pastel, oil and acrylic, collage and mixed media to create images that reflect her experiences growing up in Addis Ababa, and living in Canada and Asia.
Her work can be found at the National Museum of Ethiopia, the Ethiopian National Institute of Culture, and TEDA Archives (Tianjin), as well as in private collections around the world. Emebet is a recipient of 2018 and 2019 Ontario Arts Council Exhibition Assistance Grant, and 2015 – Present, Artists in Communities and Schools Projects and Artists in Education OAC Grants, which she uses to teach students in her local schools in the Bay of Quinte. Emebet joined the QAC board in 2020. Find her online at emebet.ca
Close Modal
Brit Johnston
Brit Johnston is an Anishinaabekwe theatre artist and arts supporter. Brit grew up on-reserve/on the land in Serpent River First Nation, studied at the University of Ottawa (Theatre B.A.; M.A. abd), and now is based in Belleville; she continues to hold strong ties to her community and Ojibwe culture. Her work with the Canadian Association for the Performing Arts (CAPACOA) and Indigenous Performing Arts Alliance (IPAA) is centered on uplifting Indigenous voices across Turtle Island.
Close Modal
Paul Papadopoulos
Paul Papadopoulos has been an educator at Loyalist College since January 2011. He is currently a full-time professor in the Film & TV Production department. He is also Vice President on the Board of Directors of the Canadian Media Educators.
He is a versatile, recognized team leader with strong leadership skills. He has worked as a producer, director, writer, videographer, and once as an on-air reporter. He was the series producer of the Canadian Screen Award nominated program POV Sports and an associate producer for the 2006 Winter Olympic broadcast, both on CBC. Paul has been a features producer for Canadian Idol. He was the producer/director of The Zone on YTV, the award-winning weekday afternoon block which is #1 with kids across Canada. In 2010 he was producing and directing several documentary series, including a series about guitar collecting, one about vintage cars and another about 1950s concept cars.
His work has received over 12 awards at the Worldfest Houston International Film & Television Festival over his career, including a Gold Remi Award in 2007 for Crunch.
Close Modal
Rachael Lidstone
Rachael grew up in Belleville having graduated from Bayside Secondary School. She obtained her Bachelor of Commerce from the University of Ottawa and Master of Accounting from Carleton University. She then obtained her Chartered Professional Accountant (CPA) designation in 2021.
Rachael is currently employed as a Senior Accountant at Wilkinson & Company LLP and also marks the cumulative final examinations for CPA Canada.
Rachael has always loved participating and lending a hand in community events and organizations. From a young age she volunteered with the Quinte Arts Council, the Lung Association, and Volunteer & Information Quinte. During her time at university, she participated in tax clinics to prepare tax returns for low income residents.
During her free time, she enjoys exploring the Quinte area through hiking, biking and going to live music events in the area.
Close Modal
---
The Quinte Arts Council's Annual General Meeting is held in the summer of each year. The meeting includes the election of the board of directors, reports on the QAC's strategic planning initiatives, presentation of the Annual Report, networking and entertainment. Everyone is welcome.
---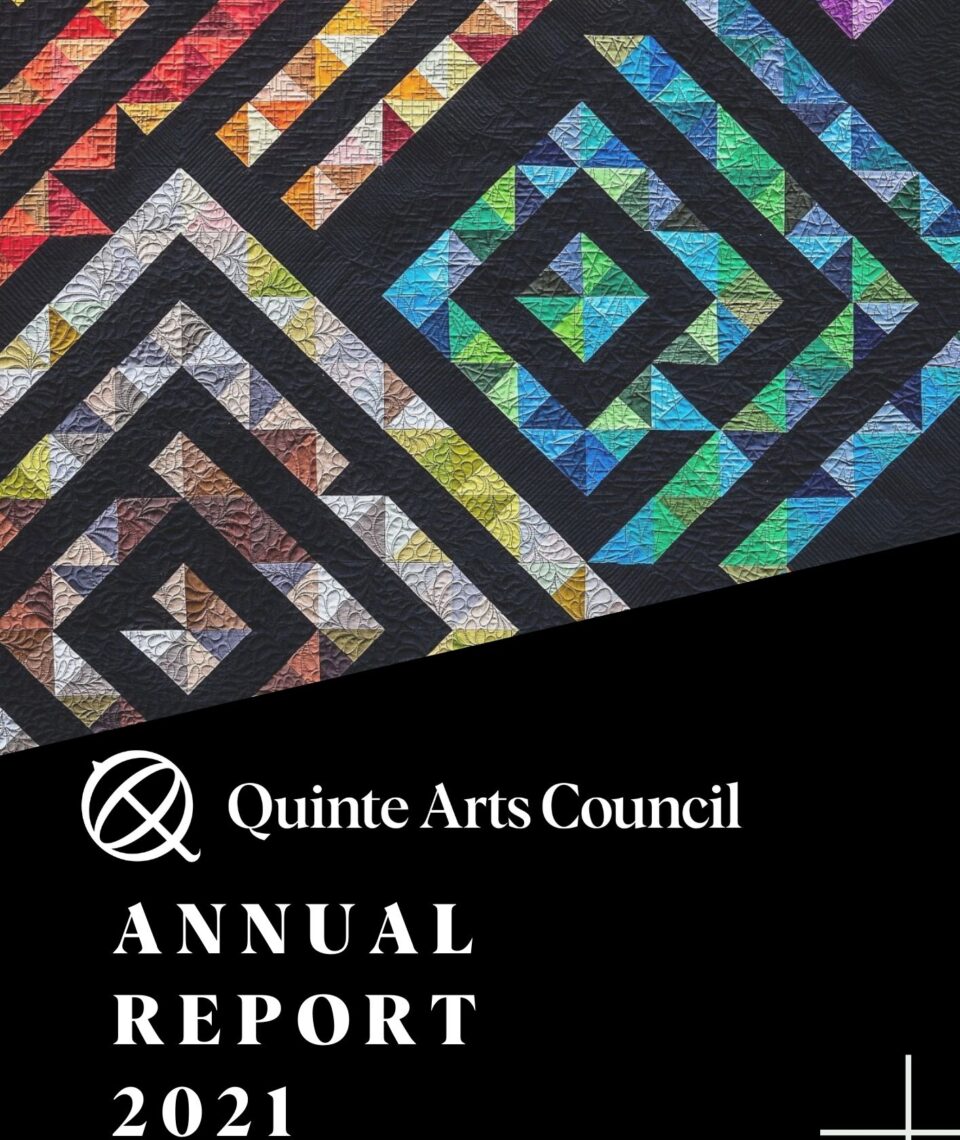 Annual Report
2021
"In 2021, as our community continued to pull through the pandemic, the arts quenched our spirits and pulled us together. During times of isolation and uncertainty, the arts added value to all of our lives. The arts have inspired, connected, challenged and brought joy when we needed those things most."
View QAC Financial Statements as of December 31, 2021
---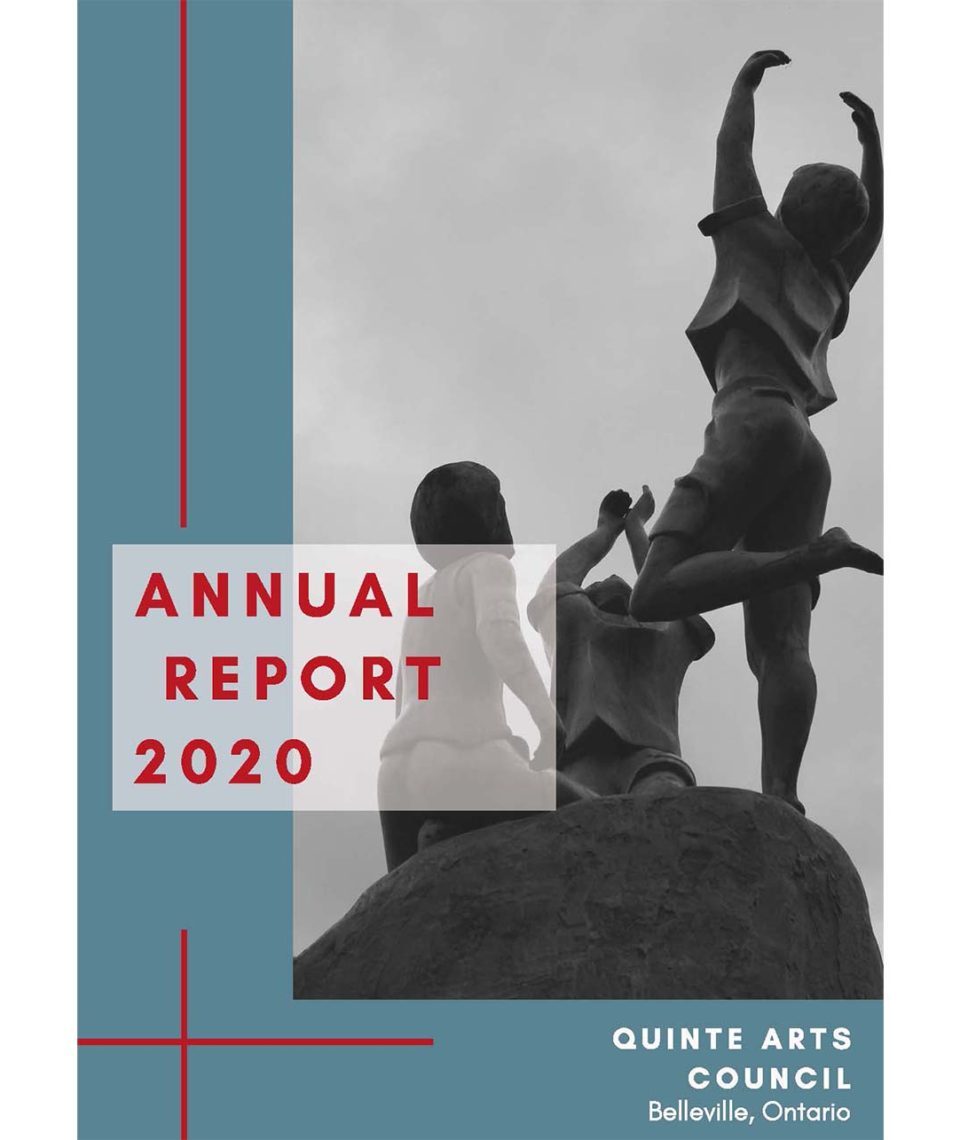 Annual Report
2020
"It was March 2020 and the QAC Team had just launched a hugely successful Women's Day show with 25 artists and a packed gallery. We had collaborations in the works with the Bay of Quinte Regional Marketing Board and the Downtown Belleville BIA and a Youth Arts Group. We'd recently met with Mayor Mitch Panciuk and MPP Todd Smith to talk about how we could work together to build an even stronger arts community in Quinte Region. And then overnight, everything changed…."
View QAC Financial Statements as of December 31, 2020
---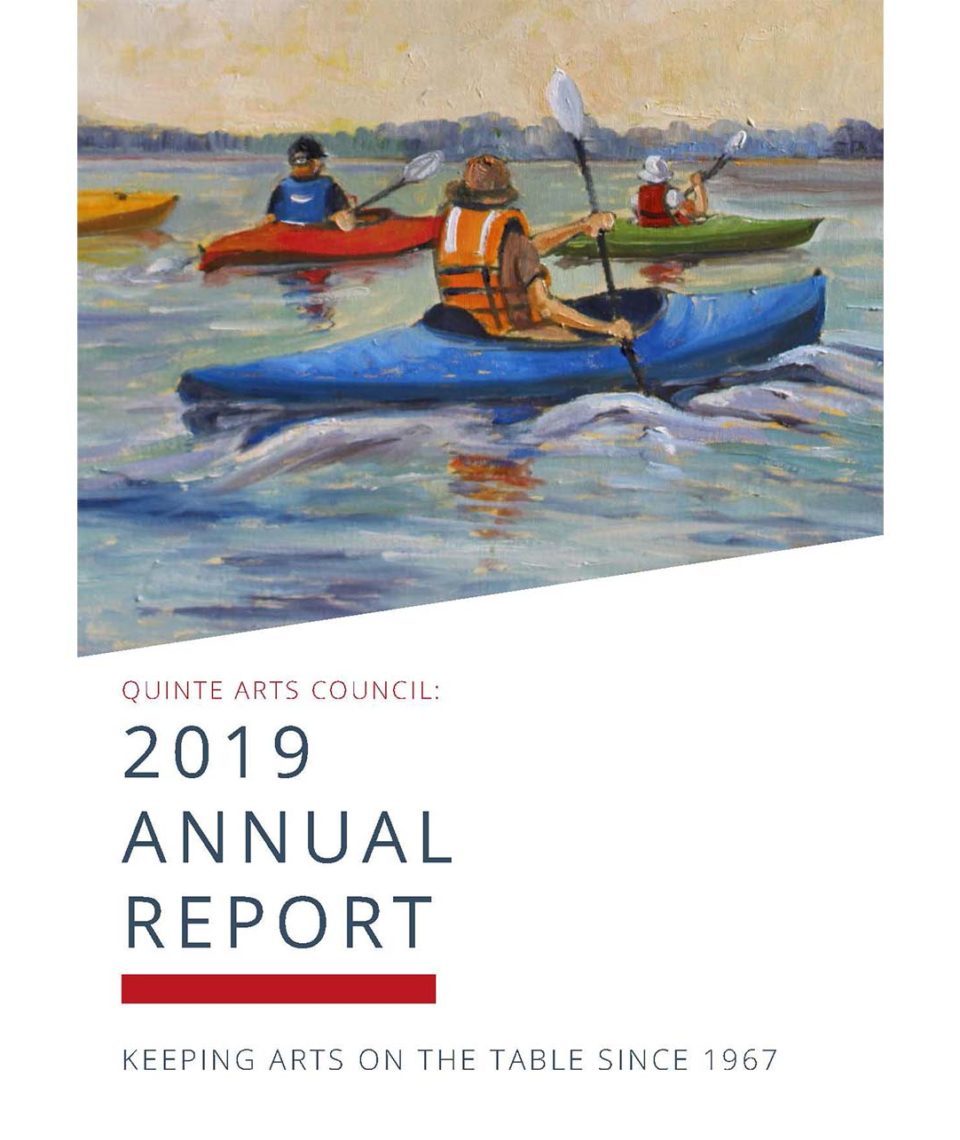 Annual Report
2019
"2019 marked my one year anniversary as the Executive Director for the QAC. It was an exciting year of change, evolution and growth…."
View QAC Financial Statements as of December 31, 2019
---