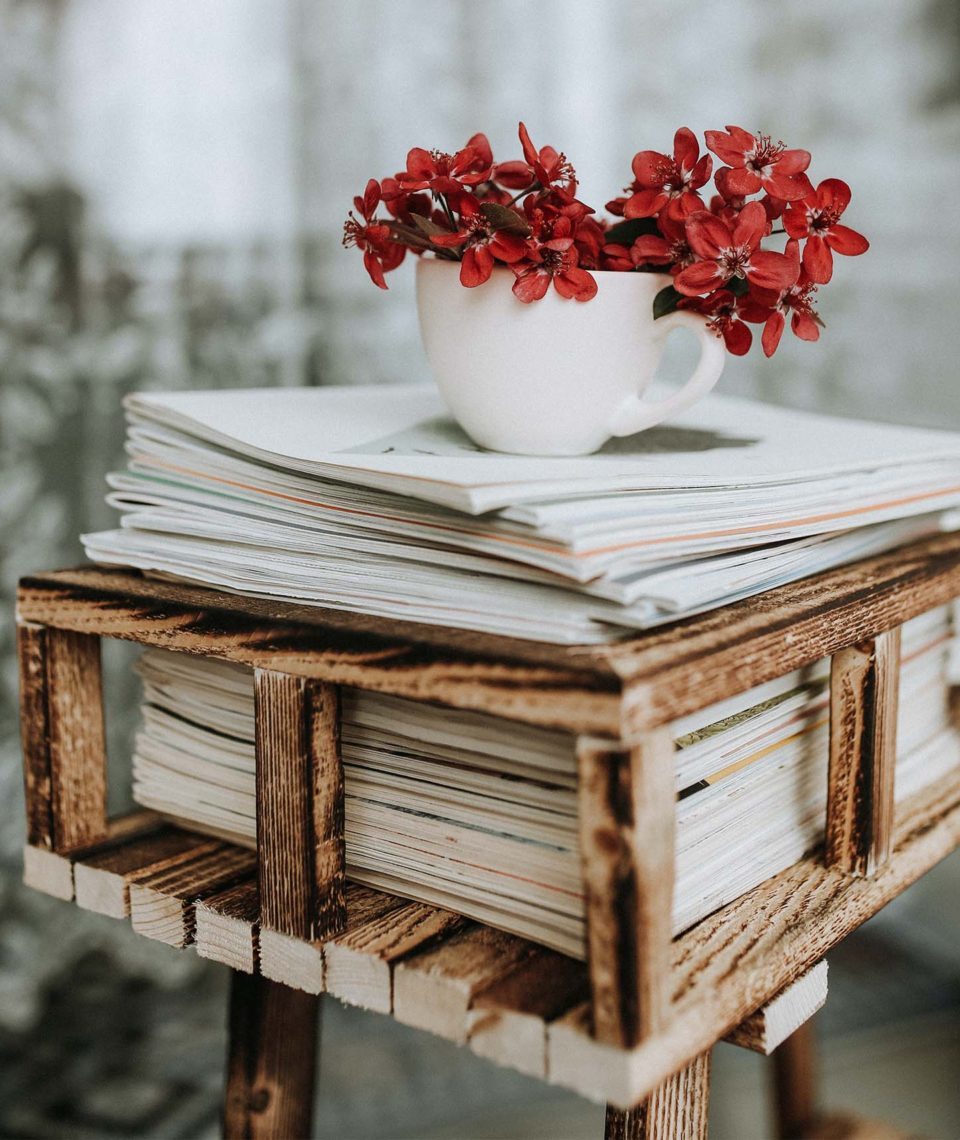 Umbrella Magazine
Published seasonally, Umbrella offers the best editorial and information about arts and culture in the Quinte region. Since 1991, readers have come to rely on Umbrella for articles and news about emerging and established artists working in the performing, visual and literary arts. We also highlight news and information about arts education and activities in the schools.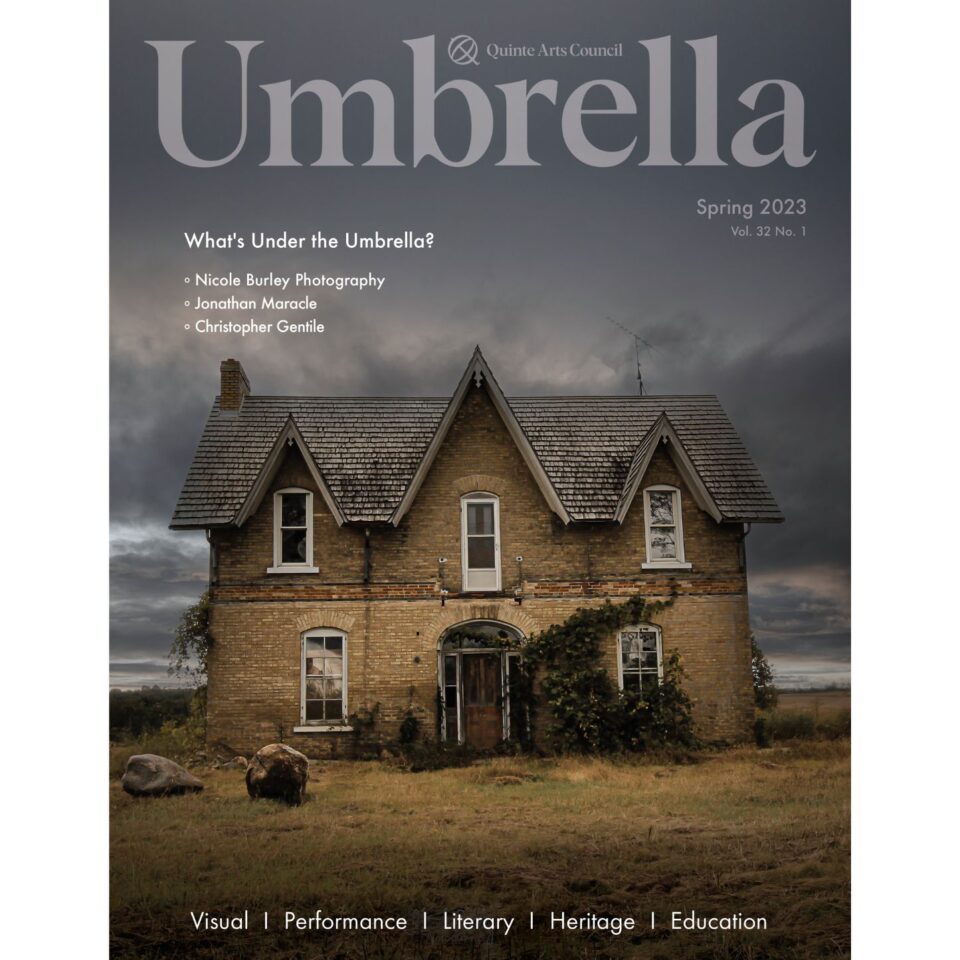 Current Issue
Spring 2023, Vol 32 No 1
The QAC continues to celebrate arts and culture in our region as we ride the waves in the ebb and flow of reopening. We went from frozen, slow progress, with small steps forward to waiting at the starting line – and GO!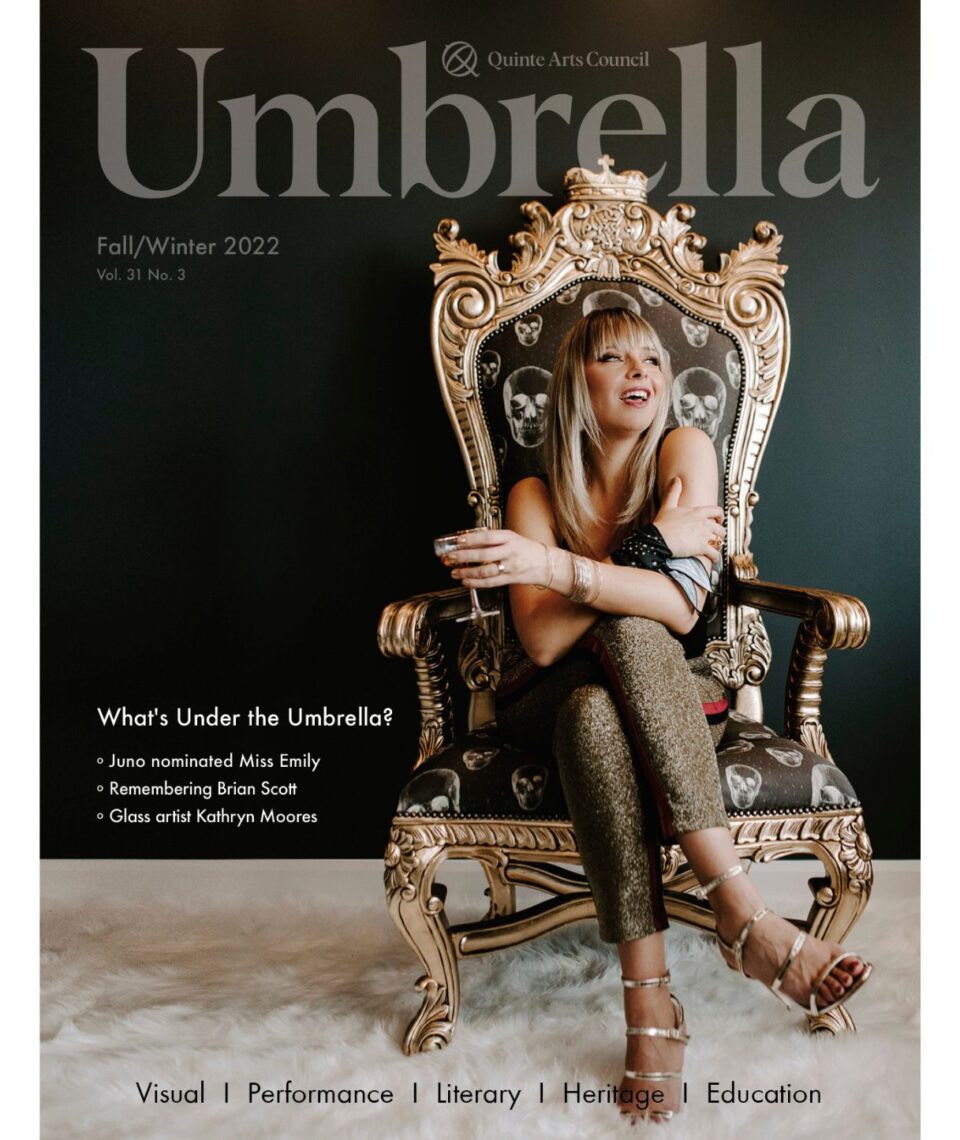 Umbrella Magazine Archives
Want more Umbrella? Visit our back issues here!
Andrew Grey
Andrew Gray (he/him) is a graphic designer and documentary filmmaker with a degree in Film Studies and a diploma in Digital Production. He enjoys working at the Belleville Public Library, designing the annual programme for DocFest and making documentaries with his brother Adam. Contact: drewgraymatters@gmail.com
Close Modal
Abena Beloved Green Tuffour
Abena "Beloved Green" Tuffour is an award-winning poet, freelance writer, and dancer. She uses spoken word to create, engage, and elevate. Her poems address cultural, social, and environmental issues, relationships, and reflect on everyday life as a small-town raised, semi-nomadic, first-generation Canadian. 
Close Modal
Allen Steinberg
Allen Steinberg graduated from Loyalist College's Public Relations program in 2021 and has a background in Journalism and Communications. Since 2019, he's been working on growing his band Arm's Length, releasing two EPs and receiving acclaim from major music blogs like Stereogum and Pitchfork. He's currently sorting out touring plans and writing a full-length album.
Close Modal
Kiki Carr
Kiki Carr is a writer and published author who focuses on personal development, poetry, local community and mindfulness. She is from a small town east of Toronto and is a new resident to Carrying Place. Find her @_kikicarr
Close Modal
Scott Williams
Scott Williams is retired from corporate life and is grateful to have found writers' communities in Belleville and Quinte West. He is co-owner of a small craft brewery in Madoc, and spends much of his time wondering how exactly that happened. He lives with his long-suffering spouse and two very opinionated basset hounds.
Close Modal
Jennifer Shea
Jennifer Shea is a seasoned communications professional with more than 35 years of experience in journalism and public relations. In 2014, Jennifer launched an independent communication business – Job 1 Communications. Jennifer grew up in Belleville and returned to the city in 2005 after working and raising a family in Kingston.
Close Modal
Ardith Racey
Ardith Racey is a retired English teacher who now enjoys being a freelance writer and entrepreneur. An avid reader of fiction, Ardith now considers herself a streaming convert. She lives near Tweed, with her husband, Hugh.
Close Modal
Peter Paylor
Peter Paylor is a Belleville-based writer and playwright. He is a member of the Quinte Playwrights' Collective and the Playwrights Guild of Canada. Peter serves as Director of New Play Development for River & Main Theatre Company at Theatre in The Wings in Belleville's downtown art and gallery district.
Close Modal
Lin Parkin
Lin Parkin is a local writer with over 10 years' experience interviewing artists, musicians and entrepreneurs. She also works with companies coast-to-coast to create long and short-form articles, blog posts and website resources. In 2018, she and her husband returned to the Bay of Quinte area to put down roots with their son.
Close Modal
Greg Ceci
Greg is a multi-instrumentalist, songwriter, recording artist, audio engineer, music events coordinator /promoter, writer, dog trainer, published author and co-owner and operator of Bark Like A Dog Studio.
He resides in the backwoods north of Marmora with his loves Norma Jeanne and their dogs.
njgreg.com
Close Modal
Fiona Campbell
Fiona is a freelance writer, journalist, editor and runner. She's also a passionate storyteller who never outgrew her love of the question, "Why." 
Over the past 17 years she's written for national magazines and websites on topics related to food, farming, the environment and social justice, and has worked with several NGOs and not-for-profits. She is also editor for Ecological Farmers Association of Ontario,  and enjoys teaching workshops and mentoring new writers. Fiona served as the Communications Director for the Quinte Arts Council from 2019 to 2022.
She has an MFA in creative nonfiction from the University of King's College, a BAA in journalism from Toronto Metropolitan University (formerly Ryerson University), and a BA in international development from the University of Guelph. Fiona is currently working on a collection of lyrical essays and poetry called Digging Deep: On Food, Farming and a Life in Contradiction.
Close Modal
---