QAC News
Celebrating Artistic Excellence in Quinte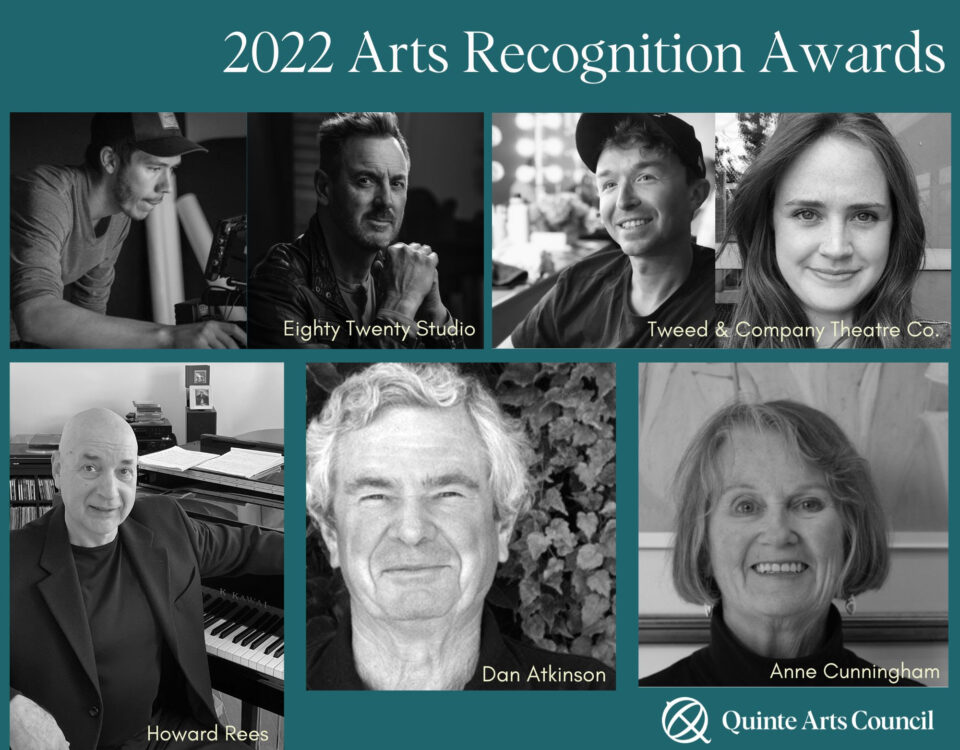 The Quinte Arts Council (QAC) believes in celebrating the importance of the arts in the community. For nearly 30 years, we have held our Mayor's Luncheon for the Arts and Arts Recognition Awards. Each year, we receive nominations for local arts champions who deserve to be celebrated for their artistic excellence, cultural leadership or contribution to the arts.
On September 22nd, the community joined the QAC in honouring the recipients at the luncheon held at Dinkel's Restaurant in Belleville. Musical entertainment for the luncheon was provided by Tom Dietzel on piano, Bruce Cudmore on guitar and Stuart Mitchell on percussion. Sam Brady emceed the event.
"We have come back from the pandemic with an arts and culture scene that is stronger than ever," says Janet Jarrell, QAC Executive Director. "Our 2022 Champions have worked hard to keep the arts scene thriving. Whether it's helping to give children the gift of music, video production or making the northern edge of Quinte the place to be for theatre, these winners are truly arts champions."
With this in mind, the Quinte Arts Council is pleased to announce the five recipients of this year's Arts Recognition Awards.
Tweed & Company: Nominator Victoria McCulloch wanted to make sure the community knows exactly how much Tweed & Company is doing to boost economic growth by creating jobs in the arts community. "There are two full-time staff positions and several part-time admin roles," says McCulloch on the permanent positions at Tweed & Company. "This season, more than 50 contract performers, technicians and creative team members will be hired from home and across the country, as well as local theatre camp counsellors. Patrons support local businesses, hotels and restaurants."
Tweed & Co. is a registered charity that creates and produces original Canadian musical theatre and presents other professional Canadian theatre productions. Since 2009, under the leadership of Artistic Director Tim Porter, the company has created several original Canadian musicals, including; Ursa: A Folk Musical, The Haunting of Hungerford House (2019), Aleck Bell (2018), and Hastings! The Musical (2017 and 2018). When the pandemic struck, Tweed & Co. made the leap and embraced virtual performances, adopting pay-what-you-can ticketing and launching their outdoor original Tales From the Lighted Path: The Black River. This year Tweed & Co. was gifted the Marble Arts Centre and the leasing of The Village Playhouse in Bancroft, expanding their reach north to ensure the arts are in both communities. They're coming back from the pandemic with their most ambitious season to date: accessible, inclusive and affordable theatre, youth programming, music, comedy and more.
Dan Atkinson joined the Board of Directors of the Quinte Ballet School of Canada in 2014 after retiring from Welch LLP. In 2018, he took on the position of Treasurer. "Dan has exhibited an understanding of the Quinte Ballet School of Canada. He was able to convey in layman's language the importance of being fiscally responsible in order to ensure that the artistic vision can be realized," says Nominator Catherine Taylor. "Dan has always been approachable and willing to help in any way. We all enjoy his even temperament and his dry sense of humour." Atkinson supports the arts in Quinte in other ways as well. He was a member of the Quinte Arts Council board of directors from 2007-2020, serving as director, Treasurer, Vice-Chair, Past Chair and volunteer. He also holds a position with the Belleville General Hospital Foundation. Atkinson is a strong advocate for non-profits and the arts in Quinte.
Eighty Twenty Studio: The Quinte region has a vibrant and quickly expanding film industry. Victor Cooper and the Eighty Twenty Studio Team have been instrumental in this growth. They have redefined how video and television are made in the Bay of Quinte region. Nominator Dug Stevenson, of the Bay of Quinte Regional Marketing Team, and winners of the 2021 Arts Recognition Award, says, "They are repeatedly creating high-quality products for their clients in a way that is raising the bar for video quality in our region and across southeastern Ontario. Their series Stoney Lonesome not only tells stories about our home, but they also shot it in our home, cast many local actors, and they're helping to put our home on the map by successfully pitching it to Bell for their Fibe streaming channel." The show has recently been green-lit for a second season, and they are producing a Stoney Lonesome Christmas special.
Howard Rees is a jazz musician passionate about mentoring and developing a love of music in children, particularly those underserved by music programs or those without opportunities for extracurricular music. He was the founder and president of the "We Are One" project. Howard and his talented colleagues took on the mentorship of hundreds of school children in the Toronto area for ten years. They built up courage and confidence in children from all walks of life, giving them the gift of music. Rees was nominated by Prince of Wales Vice Principal Andrea Kerr.
"Howard introduced himself to me in my role as Curriculum Coordinator for the Arts at the Hastings and Prince Edward District School Board. It was crystal clear that we needed Howard. He would have an immense impact on 130 students in Grades 3, 4 and 5 from four schools in the center of Belleville. Students studied his original choral jazz music, improvisation, and lyric writing directly beside Howard and his team of professionals," says Kerr. "Over the course of the 4-month project, students expanded their pride in themselves, their creativity, self-esteem, concentration, a sense of belonging, and music skills, as well as an appreciation for the performing arts."
Anne Cunningham: An arts educator, visual artist and arts advocate Anne Cunningham is a pillar of the arts community in Quinte. A graduate of Laurentian University, she spent 36 years as a teacher and music consultant around Ontario before landing in Belleville. In the 1970s, she joined the Quinte Arts Council board, where she served for over four decades as a Director, Vice-Chair, Chair and Past Chair. "Anne's significant contributions and impact to the arts demonstrates why these awards were created many years ago," says nominator Marilyn Lawrie, former Executive Director of the Quinte Arts Council. "She deserves to be recognized for all she has done for the focus upon and nourishment of the arts in our community. This region is so much stronger for having Anne in our creative midst." Cunningham isn't just an arts advocate and educator; she is an accomplished artist whose works have been shown throughout Belleville and beyond.
Thank you to our sponsors McDougall Insurance and Financial, Ralph Johnston and Tony Martin, The John M. & Bernice Parrott Foundation, The Ontario Arts Council and The City of Belleville, our gracious host Paul Dinkel of Paulo's/Dinkel's Restaurants and local artist Mark Armstrong for designing the awards.
---
---
---