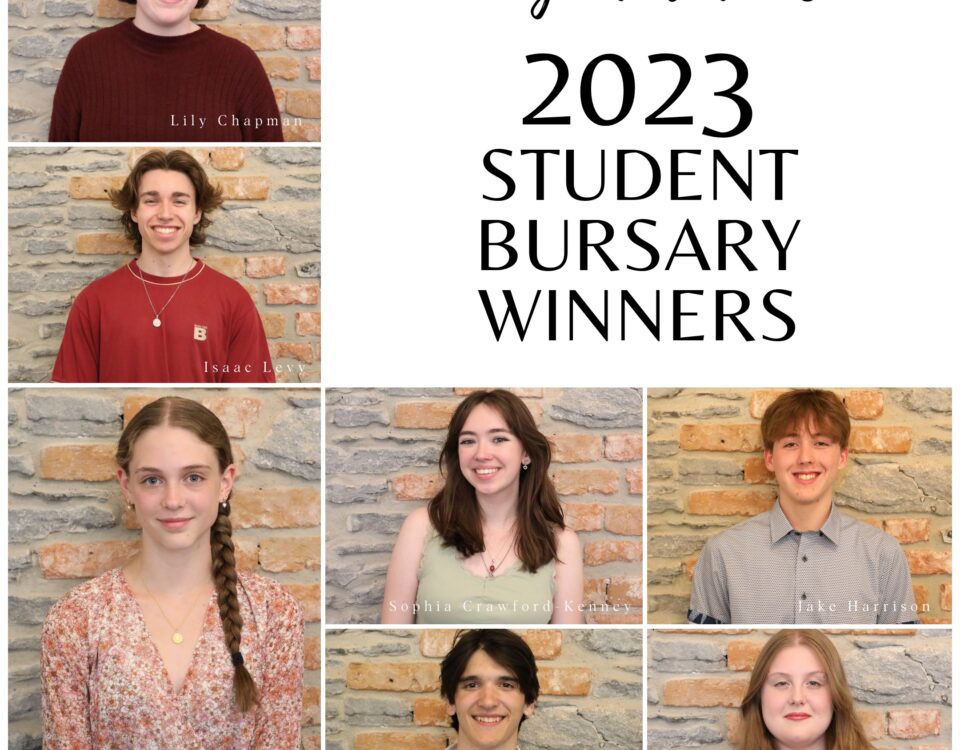 The arts are a community builder. People come together to develop their artistic passions while reimagining the world around them. Each year, the Quinte Arts Council (QAC) awards six bursaries to students graduating from secondary schools in the Quinte region who are going on to study the arts at a university or college in Canada. This year the QAC has added a seventh bursary for students pursuing dance. The students who received the 2023 bursaries believe that the arts help them to build their communities both literally and figuratively, as well as giving them the drive they need for self-discovery and success. 
Anissa Nielsen, recipient of the 2022 Susan Richardson Bursary, believes in an arts-based education. "The arts are so incredibly important for development as a human – creative and critical thought, deeper understanding of emotion, and openness to new ideas are only some of the skills that post-secondary arts programs enable in students. No matter where life takes you, a background in the arts will always be beneficial to you, both career-wise and as a human being."
"Arts programming was harshly impacted by the pandemic. The 2023 bursary recipients had many obstacles to overcome in order to continue to pursue their artistic passions. The students found community within the arts and continued to work hard despite lockdowns and separations. They should be applauded for continuing despite hardships and adapting their art for the post-pandemic world," says QAC Executive Director Janet Jarrell. "We have a new award this year to focus on dance. The Quinte region is lucky to have the Quinte Ballet School of Canada in its midst, elevating the region with its prestigious history. The QAC believes in working with artists across disciplines and this is a welcome opportunity to partner further with the dance community."
The recipients of the 2023 Graduating Student Bursaries are:
Quinte Arts Council Bursary:
Chloe Burr is graduating from Bayside Secondary School and will attend Ontario College of Art and Design for Photography in the fall. The arts are something Burr has been passionate about her entire life, from dance to singing and now photography. She believes in loving what she does. "The process of taking hundreds of photographs, then searching through to find the perfect shot is so enjoyable and satisfying. The work that I put into my current projects feels easy because I love it. I've always lived by the phrase "Choose a job you love and you will never have to work a day in your life". I truly hope that one day I can make that my reality."
Isaac Levy is graduating from Centennial Secondary School and will be attending  Carleton University to take Architectural Design. The arts come in all forms. Architecture is the arts on a massive scale. Making the places around us beautiful for generations. "I have also always had a very imaginative mind and a great passion for the arts. I chose architecture for these reasons. I want to dedicate my life to a career where I can bring my ideas into the world and leave a lasting impression."
The Elaine A. Small Bursary:
Lily Chapman, is graduating from Centennial Secondary School and will be continuing on to Queen's University for a concurrent Bachelor's of Music and Bachelor's of Education. Chapman believes music is a way to connect and stay positive. "Music is a positive way for me to connect with others, and I hope to continue to perform for my entire life. Getting on stage and playing with a group is one of the best experiences out there. Music has been the best part of my life. Through Covid lockdowns playing music was the best way to motivate myself. I continue to play music when feeling down, and it always helps lift me back up. Remaining in the field of music will allow me to succeed in the future as well as enjoy my future career."
The Hugh P. O'Neil Bursary:
Jake Harrison is graduating from St. Paul Catholic Secondary School and will be attending Algonquin College to study Interactive Media Design. Harrison believes that arts will enable him to help others. "I want to work in a career that makes me happy and uses my interest in art, technology and design to create content that benefits others. To work in the creative industry creating images and messaging through the use of digital media and design."
Sophia Crawford-Kenney is graduating from Centennial Secondary School and will be attending the University of Toronto/Sheridan College for Theatre and Drama Studies. Crawford-Kenney says that art has given her community and the ability to grow. "It is through a found community, my mentors and teachers, that I have been most able to heal and grow into who I want to become. This is what ultimately pushes me to become an actor – I want to nurture and develop that growth and self discovery."
Susan Richardson Bursary:
David Litke is graduating from Prince Edward Collegiate Institute and will attend Sheridan College for Performing Arts with an ultimate goal of being in musical theatre. For Litke the arts are about connection and self-discovery. "Through my experiences with Shatterbox Theatre and PECI Productions, I discovered my passion for the performing arts. I realized that I wanted to pursue theatre in college and make it a significant part of my life. Performing arts gave me a sense of purpose and fulfilment that I had never experienced before. It allowed me to express myself creatively and connect with others on a deeper level."
In 2023 thanks to generous sponsors the QAC was able to introduce a new bursary for students who are pursuing dance. The Anita Binnie Award will help students enrol in dance programs which are financially out of reach for many dancers.
The inaugural recipient of the Anita Binnie Award is Piper Orrick. Orrick began dancing when she was just two years old as a "Tiny Star" and moved into competitive dance at age 7.  After a few years of competition Orrick realised that her true passion is Ballet and she joined the Professional Training Program at Quinte Ballet School of Canada.  Orrick has achieved much while dancing at QBS and most recently has been awarded the 2023 Sara Holton International Program scholarship to attend the Summer Intensive at the Royal Danish Ballet.
For more information about our Arts Education Programs, please visit 
https://quinteartscouncil.org/arts-education/ 
---
---
---