Umbrella
First Tuesday Muse
Speaking a community into being
By Scott Williams
Tweed/Madoc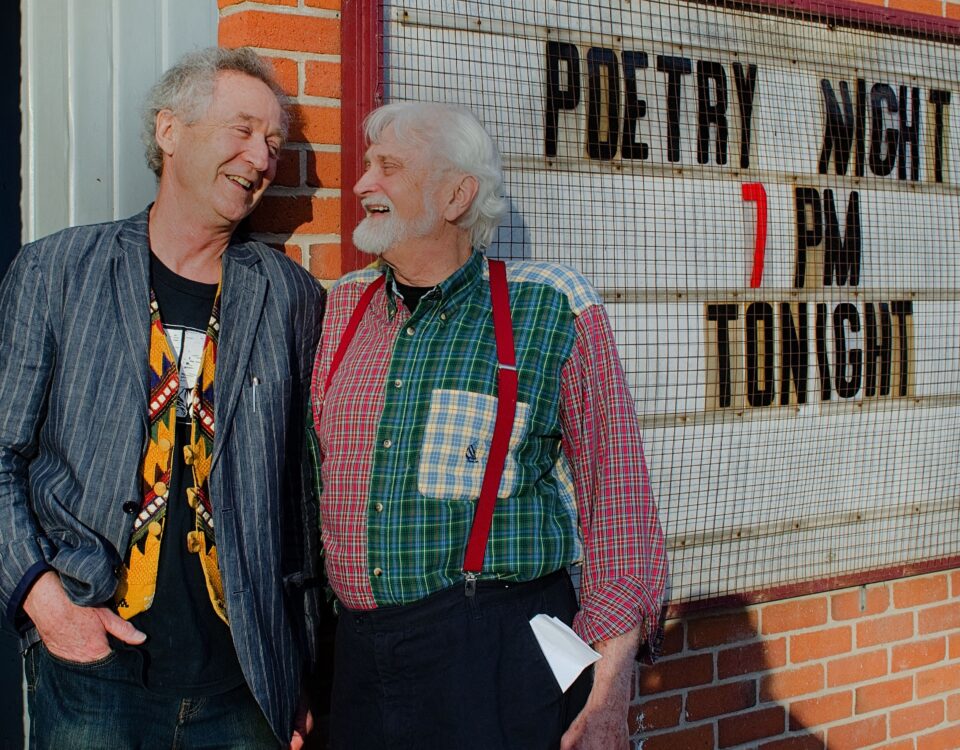 May 3, 2016, just before seven in the evening, in a typical – stereotypical – small-town watering hole. The room is dim, a few candles on tables contrasting with the fluorescent light illuminating a small stage. A patron walks in, followed soon by several more. The space fills, and organizers breathe a sigh of relief. Welcome to the very first First Tuesday Muse, a poetry open mic, then held at the fabled Tweedsmuir Tavern in Tweed, Ontario.
First Tuesday Muse (FTM) was the brainchild of Billy Piton and Peter Snell, who had already collaborated on the optimistically named Tweed National Theatre. In their own words, Piton was the "let's" guy (as in: "let's do it"), and Snell was the "goto guy whenever Billy had crazy ideas."
"Billy and I just wanted to keep on doing creative things," says Snell. "Billy had seen poetry readings in other places – Kingston, Toronto – so why not Tweed?" A moment's skeptical thought would have suggested some answers, but Snell adds, "Billy was always willing to leap into the abyss without much thought." Thus FTM was born, a counterpoint to the musical open mics Piton was already organizing.
The pair had no idea if anyone would show on that first evening – whether it would "take off or die a quick death" – but take off it did. "We found all the clandestine poets that came out of the forest – literally came out of the woods with their sheaf of papers." 
The meeting format has stayed consistent since that first night. Participants sign in on arrival and are given a slot in which to read. After each reading, the host provides commentary. "We're not workshopping poems here; it's not a critique," says current host Tamara Best. "It's an observation, or a feeling, or a connection – something that resonated." That commentary – a tradition begun by original host Snell – contributes to the sense of engagement one gets at an FTM event. Best, herself an active poet, describes getting to a point in her own work where she needs the interactions you get when reading in public. "It's an essential part of the editing process," she says.
Exposing your work to others – and opening it up to commentary – can be terrifying. In a 2016 newspaper article penned by Ardith Racey, an early FTM participant, she said, "it takes courage – or complete stupidity – to read out private, emotional stuff to anonymous adults." Making yourself vulnerable carries risks, but poet Charlotte Dafoe says the risks are worth it. Dafoe uses the meetings as a tool to fine-tune her work and says, "I've been rewarded so much by taking the risks I've taken."
Providing a safe space for those risks has been a hallmark of FTM since its inception. "It didn't take long for people within the community we had created to start referring to us as family," says Snell. "People felt an obligation to it and felt support from it." Best agrees and describes this summer's first post-Covid meeting, now held at the craft brewery in Madoc (the Tweedsmuir Hotel and Tavern was destroyed by fire in March 2021), as a reunion "a gathering of friends."
A recent participant commented that "doing poetry made me a poet," and in a similar vein, doing community has made this a community. By sharing and participating in each others' work, this is a friendly and supportive community – a family – that has quite literally spoken itself into existence.
Facebook: @firsttuesdaymuse
---
---
---