Umbrella
Parrott Gallery
The 'Parrott Gallery' Celebrates 50 Years
Belleville
Ardith Racey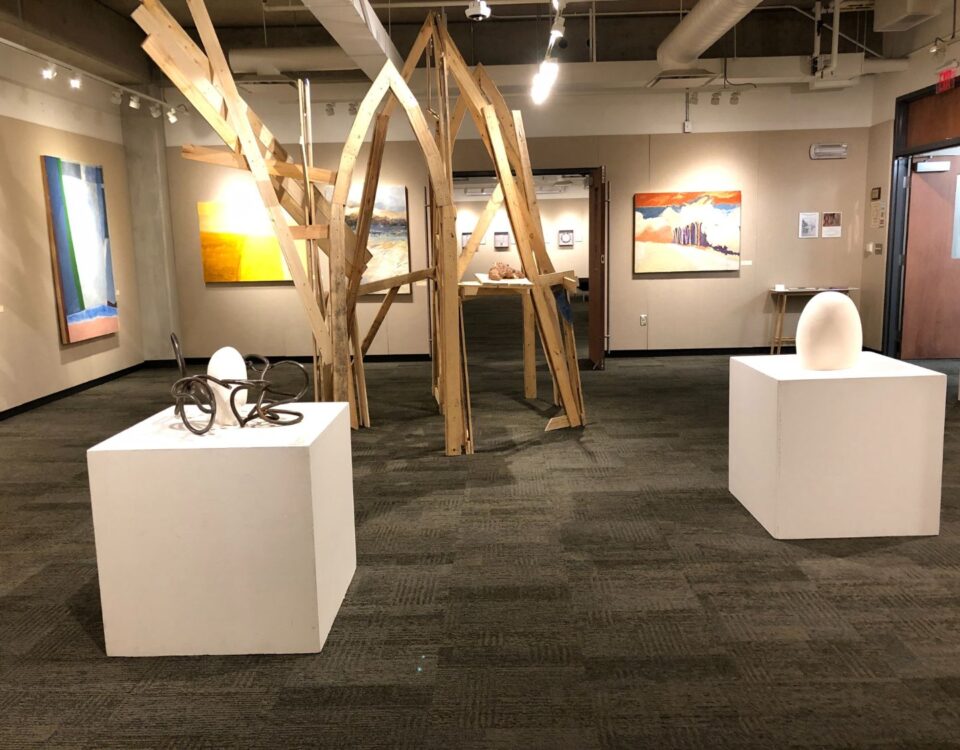 What does Henry Corby have to do with the Parrott Gallery?
Previously called the Corby Library Gallery, the Belleville Library Gallery, and the John M. Parrott Art Gallery, Belleville's first dedicated public gallery space opened its doors on September 29, 1973, and since then has been integral in supporting visual arts in the community. 
The gallery originated in the historic building that began as a Mechanics' Institute operated from 1851 to 1859. Municipal Library service in Belleville officially began in November 1876 with the establishment of the 'Mechanics' Institute and Library Association.' In 1895, the name was changed to the Belleville Public Library.
Senator and Mrs. Henry Corby purchased the property which was the Merchants Bank of Canada, remodeled it to serve as a library, and presented it to the City in 1908; thus, the Corby Library Gallery.
Acting curator, Wendy Rayson-Kerr says Olive Delaney, Head Librarian, ran the gallery from 1973-76 before it gained its first dedicated curator, Winsome Lewis (curator from 1976 – 1991) who passed away last year. Lewis was instrumental in organizing exhibits by highly renowned artists such as David Milne, David Hockney, Toller Cranston, and members of The Group of Seven. In its early years, the gallery was embraced as a space for local art groups and individual artists, both emerging and professional, to display and sell their work. Archival photos of an exhibition displaying work by artists from Lahr, Germany (Belleville's sister city) shows curator Lewis with Linda Mustard, designer for the show, and Jane Hull, QAC member. QAC's juried biennial show, Expressions, has been displayed in the gallery since 1996. 
The move to the third floor of the new Library in 2006, during the time Susan Holland was curator (2003 -2020) increased the gallery space threefold, allowing for multiple exhibits and additional programs. Bernice and John M Parrott supported the new gallery and generously donated their personal collection of original Manly MacDonald paintings. Thus the John M. Parrott Art Gallery
The gallery continues to feature the Manly MacDonald collection as well as a wide range of rotating art exhibits in its two larger galleries. The return of juried shows (QAC, ECOAA, QFA, OSA, BAA) and Art in the Schools is also in the works. In fact, the gallery offers a wide range of opportunities, programs, and workshops. Rayson-Kerr is excited about the return of in-person workshops and events; she says that "for years, there were different speakers on Wednesdays, often with background music." Still in the planning stages, events scheduled for this September include a gala to commemorate the anniversary. 
bellevillelibrary.ca
facebook.com/parrottartgallery
Thank you to Amanda Hill, Archivist from the Community Archives of Belleville and Hastings County for supplying the photos and historical information.
---
---
---