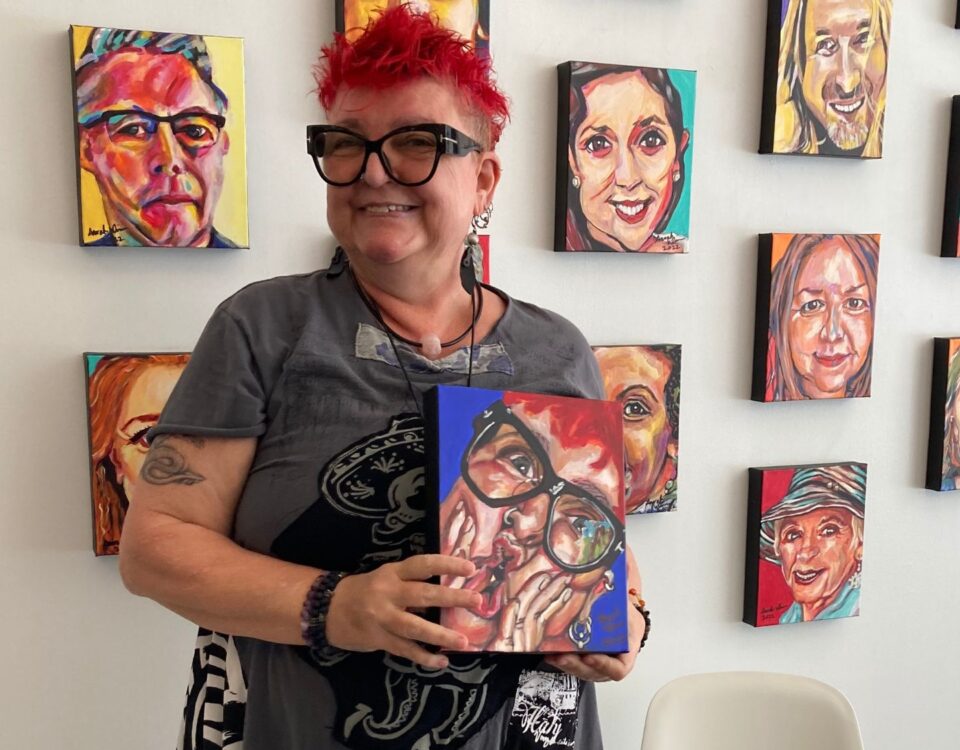 The 100 Day Project – the idea is simple: choose a creative project, do it every single day for 100 days. For local artist Sarah Winn, she chose to complete 100 portraits in 100 days! Not a feat many artists would want to undertake; but Winn took on the challenge, and won. While this is the fourth year that Winn has taken on this ambitious project, it's the first year she decided to dedicate the entire project to portraits of people in the Quinte region. Named the 'Belleville Community Portraits', this 100 day challenge is a feat of endurance, especially when so many of the paintings involve multiple people. Known for her bold colours and distorted views, the Belleville Community Portraits is a love letter to the community about how beautiful and unique each and every individual is. 
Winn is passionate about the arts and no matter where she is living, she is active in that art community. Winn lived in Kingston before meeting her companion, Herb, and moving to Prince Edward County. Thirteen years ago she moved to Belleville and became a fixture in the art scene here. Winn dealt with health issues when she first moved to the city and used art to help her heal. She refers to herself as an art machine; only someone who can power through like a machine would undertake this kind of project.
"It was the most challenging project so far," said Winn about the Belleville Community Portraits. "This is my fourth year participating in the 100 Day Project and I can honestly say this year was more of a challenge than all the previous years. What made it so challenging was that the subject matter was so similar and yet so very different, not to mention the short time frame. I had to capture a person's looks and personality to the best of my ability."
"When I first saw the portrait Sarah made of my mother I said she completely captured my mothers essence," said Margaret Ruttan at the opening of the 100 Day Project show at the Quinte Arts Council (QAC). 
Winn began her 2022 100 Day Project February 13th and painted her final portrait, which is a self portrait, on May 24th. The show is displayed at the QAC Gallery. All paintings are 8X10 and done in acrylic on canvas, the paint almost had no time to dry before Winn would begin her next portrait. 
Getting a portrait painted by an artist is often financially out of reach for most people but through the 100 Day Project Winn made portraits available to people who might not have dreamed it possible before. 
"Sarah has always believed in accessible art – the QAC recognizes the value in these portraits, which are a complete steal at $25, which simply covers her costs. We encourage the participants to compensate Sarah additionally for her time and serious talent. The Belleville Community Portraits are a gift to the community from Sarah," said Janet Jarrell, Executive Director of the Quinte Arts Council.
The 100 Day Project runs at the QAC Gallery until June 2nd. Come in and see who you recognize on the walls.For further information about the 100 Day Project:  https://www.the100dayproject.org/
---
---
---