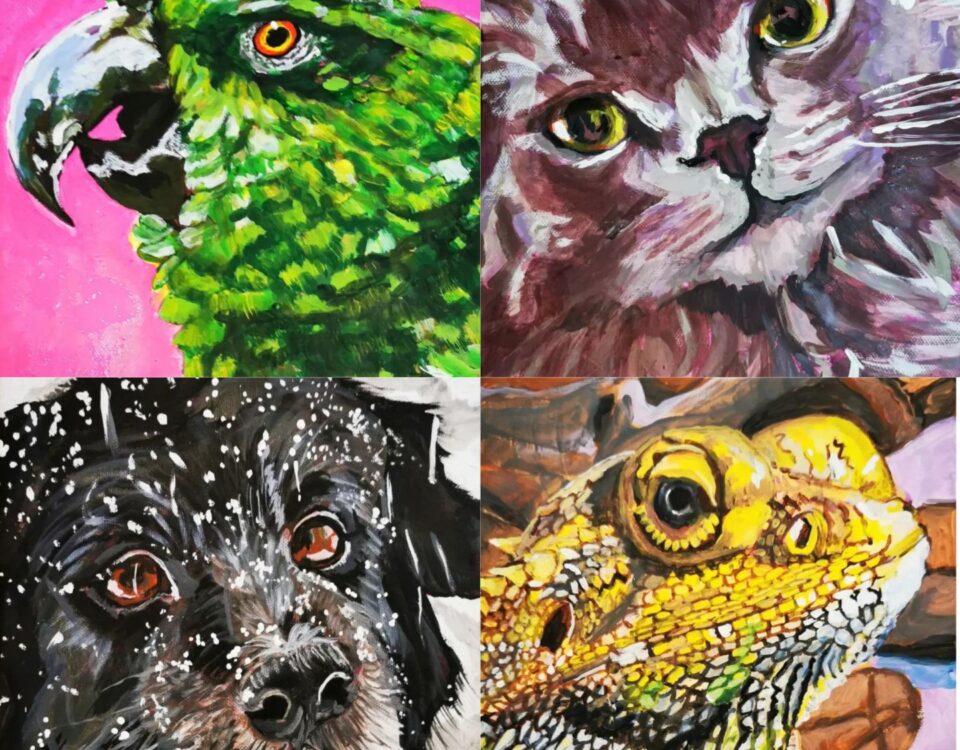 Sarah Winn is passionate about sharing her art with the community. Last year she created 100 portraits in 100 days of the people of Quinte. This year, Winn once again is honouring the community – this time her focus is on their pets. Her show, The Pet Portrait Project, opens Thursday May 4th from 4- 6 PM at the Quinte Arts Council (QAC) Gallery and will run until May 26th. The opening reception will feature a chance to meet the artist and is part of the Arts Walk, a monthly event where participating downtown galleries interspersed along Front, Bridge and Pinnacle streets (what has affectionately become known as 'the Gallery District') stay open late to ensure more of the public gets a chance to participate in the artistic community.
Her artistic style uses bold colours and distorted views to capture her subjects. Another challenge of this project is to make it financially viable, during the 100 Days project last year, Winn was unable to break even with the rising cost of supplies. 
Winn is charging $100 per portrait. After the cost of the canvas, the paint, hardware and varnishing, she factors in at least 4 hours of her own time which comes to about $13.22, less than minimum wage for this project. With 58 years of experience and expertise in her art form, this isn't a livable wage for this project but she wants to give back to the community.  
"We advocate for making a livable wage," says Janet Jarrell, Quinte Arts Council Executive Director. "Artists and arts organizations are valued, supported and celebrated by the community; arts workers are empowered to achieve creative success with viable, sustainable careers. We strongly encourage the community to support this project above the cost for these priceless portraits."
For Winn this project is about bringing joy to people's lives and making a difference. She has connected with the people she is creating for.
"One client reached out and had two portraits to choose from. I found out she had stage 4 cancer and both of the pets had passed. We became Facebook friends and I could see her in the hospital with all her beautiful family," said Winn about a memorial pet portrait she was making.  "I decided to paint the other pet as a present. After I posted and tagged her she messaged me "this brings tears to my eyes! You are very kind with your amazing gift." Unfortunately, she passed the end of March. I will always be grateful to be able to share my gift with her and the way it gave her joy."
During the Pet Portrait Project Winn has painted every day, something she loves doing. Even after coming down with Covid-19 she managed to return to painting quickly. Painting is her life, but she also finds creating to be its own form of indulgence. 
"I paint or create something almost every day, whether it is a doodle or a whole painting. So painting a portrait a day isn't that far of a stretch. Painting everyday is like exercising everyday without losing weight," says Winn. "Covid-19 put me down for one day only, I love painting and creating, so like chocolate, I indulge."
Winn is always hard at work creating. She has just submitted a self-portrait to The Kingston Prize and is working on two paintings for the QAC juried show Expressions coming up in May and she has even signed on to be part of the Summer One Act Play Festival taking place at Theatre in the Wings running June 1st to August 27th. 
The Pet Portrait Project is Winn's fourth solo show and her second at the QAC gallery. She's already applied to host a show in the gallery in 2024, as the gallery bookings are full for 2023. 
Winn loves the artistic community in Quinte. It's vibrant and diverse. Everyone brings something fresh and there's an energy to it that isn't felt anywhere else.
"Belleville is filled with amazing artists and artisans and it's a wonderful feeling to be part of the community. Be Kind, Get your Shot, and Dream it Paint it!"
The Pet Portrait Project is on display at the QAC Gallery, 36 Bridge St East, until May 26th. The opening reception with a chance to meet the artist will take place May 4th from 4PM-6PM. 
---
---
---