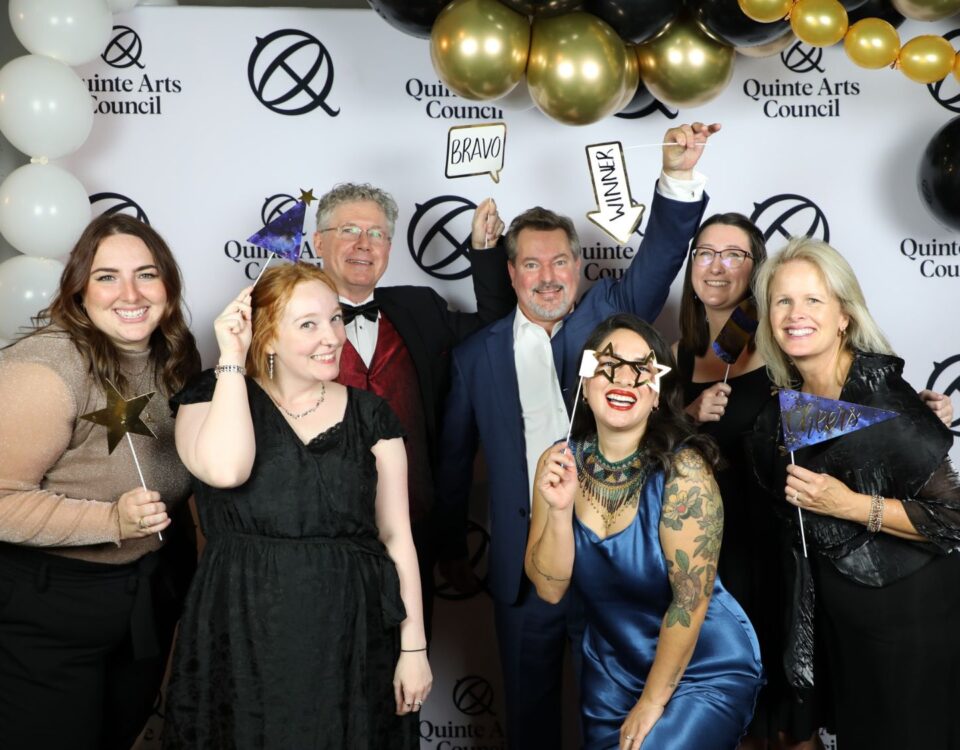 "Winds in the east, theres a mist comin' in. Like somethin' is brewin' and 'bout to begin. Can't put me finger on what lies in store," -* that 'somethin' is the 29th annual Arts Recognition Awards (ARA). This year the Quinte Arts Council (QAC) has rebranded the former luncheon into a star studded, black-tie formal gala; truly an evening for the arts. Celebrating the ARA recipients, enjoying great food, live entertainment, live and silent auctions with the proceeds from the evening supporting the arts education program. This program provides bursaries for graduating students and sends artists into classrooms to give students hands-on visual and performing arts experience. 
Coming in October, this Friday the 13th event brings good luck! Join the QAC and the community in honouring the recipients for 2023 at The Grand for our ARA Gala. Tickets are available through Eventbrite or at the QAC Community Hub – 36 Bridge St E, Belleville. 
"The Arts Recognition Awards are a chance for the community to come together to witness the extraordinary talent here in the Quinte region," says Janet Jarrell, Executive Director of the Quinte Arts Council. "We are on the flipside of a few years of isolation and quiet; it is time to celebrate together honouring the recipients of this year's awards, raising funds for arts education, and enjoying a fantastic lineup of live entertainment. We have a variety of famous talent here: the Dan Douglas Trio, The Quinte Ballet School of Canada, Quinte Youth Theatre and finally rock out the evening to the Impish Grins." 
Our community has nominated seven recipients for their artistic excellence, cultural leadership or contribution to the arts in the Quinte region. 
Dan Douglas "The Musical Community Builder"
Dan Douglas is a musician who has been performing and honing his craft for over four decades! He has a passion for passing on the love of music to others and has been a music instructor, clinician and adjudicator for Drum Cops and marching bands across North America. He performs both jazz and commercial music and is a member of Quinte Symphony. He founded the jazz band, The Dixie Demons, who perform across Ontario and recently had a sold out show at the Belleville Club.
Debbie Shaw, Past President of the Quinte Symphony says "From playing in the trombone section of the Quinte Symphony last year to guest conducting with Quinte Symphony and the Hastings County Concert Band, his enthusiasm and energy are infectious. As many musicians in various ensembles have told me, he is a natural leader and brings out the best in them. Dan has been very successful in creating bridges."
Hannah Georgas "Canadian Indie Rockstar"
Hannah Georgas is relatively new to the Quinte region. An indie musician with a passion for community she is already making waves here. She is currently on an international tour performing her latest album "I'd Be Lying If I Said I Didn't Care".
Nominator Sam Brady says "Hannah is an incredibly talented Canadian music icon and she's giving back to her new community through her time and efforts."
Trevor Norris of the Bay of Quinte Regional Marketing Board says "Aside from having released seven successful albums, earning multiple Juno and other award nominations, touring Canada and internationally, Hannah has always found time to dedicate to supporting the growth of music and the arts in Canada. Her generosity and community driven focus is well known amongst her peers. She has reached out to me and our team at Bay of Quinte RMB to propose a few ideas about how she can give back and celebrate the arts in Belleville." 
Michelle Hauser "The Creative Space-Maker"
Michelle Hauser created the non-profit Harmony Lounge and Music Club in Napanee. Harmony Lounge & Music Club is a youth-oriented program that provides mentorship, a gathering space, and professional-quality music lessons for high-school-aged students from Greater Napanee and surrounding area as well as employment opportunities for high school students and other members of the community. Hauser developed the program after observing the effects of isolation and anxiety due to the pandemic on high school children.
Nominator Jim Barber says "Harmony has added a dimension to the community that was vastly under- represented – the non-sports community. Not all kids can or wish to play organised sports, and now, thanks to Michelle and her team through Harmony, they have a place to feel welcome and engaged."
Oeno Gallery – Carlyn Moulton "International Gallery" 
Carlyn Moulton is the owner and curator at Oeno Gallery. About Moulton's impact on the arts community nominator Dana Charles says, "This year, Oeno Gallery celebrates its 20th Anniversary and its history of enriching the local arts community with monthly gallery exhibitions, artist talks, community events, and the Sculpture Garden, which sees 30,000 visitors a year. Carlyn has established relationships with art buyers worldwide, garnering an international reputation and furthering the growth of the local tourism industry. Carlyn has demonstrated commitment to community leadership through fundraising, sponsorship and membership." 
Moulton founded PECSyria, an organization committed to helping Syrian families relocate to PEC and has assisted in raising funds for Save The Children in Ukraine as well as local fundraisers to help uplift community members. Oeno Gallery is a proud member of the ADAC, PEC Chamber of Commerce, and The Arts Trail. This year Oeno also became officially Rainbow Registered – an Accredited 2SLGBTQI+ Business. 
Randy Stewart "The Musical Force"
Randy Stewart is a singer songwriter who works and plays throughout the Quinte Region. Randy is a musician but according to nominator Ron Marshall Stewart is a musical force in the region. "He just wrapped up a year where he organised over 40 musical events around the region that put more than 120 musicians in front of an audience," says Marshall. "Randy performs solo on stage regularly and in a variety of venues, from bars and coffee houses to outdoor stages to concert venues. His well-known sense of humour in and outside of his songs draws regular repeat audiences."
In a letter of support for Stewart, Andrew Gardiner of the Bees Knees says "Randy Stewart has helped our band, as well as many others, get the opportunity to play in front of a large audience and gain confidence in ourselves and our art. I am very certain you would not meet a local artist that has not been touched by Randy's love and determination to keep music alive and on stage in the community.
Musician Kyle Mitchell says about Stewart, "People like Randy bring the best out of any arts community and he does so by encouraging everyone around him to shine their brightest. He has brought some of the best opportunities for artists (like myself) simply because he loves to do this."
Christina Taylor "The Mentor of Movement" 
Christina Taylor is the Board Chair at the Quinte Ballet School of Canada and a dedicated volunteer to arts organisations in Quinte, including the Quinte Symphony. She was nominated by QBSC Artistic Director, Catherine Taylor who says "Christina's calm, positive and caring approach makes her a great arts leader who has helped QBSC to navigate financial challenges, public health lockdowns and to celebrate with the public the achievements of our students, our performances and our training programs."
In a letter of support QBSC Board member Dan Atkinson says "She is a continuing supporter of arts and culture in our community and puts an extraordinary amount of time and effort into helping organisations both as a Board member and as a volunteer. She is a wonderful credit to our community."
Sarah Winn "The Artistic Powerhouse" 
Winn is a well-respected member of the Quinte arts community both as an artist and as a supporter of the arts. She is an active member of the Belleville Art Association and the Quinte Arts Council. She is always willing to donate her time and expertise in order to support the arts community. She has taught several classes over the past year and is an excellent teacher. Many know Winn thanks to her impressive feat "The 100 Day Project" that has been shown two years in a row in the QAC Cultural Hub. 
In a letter of support for Winn, Dona Knudsen says "Sarah's work is not only technically excellent but displays sensitivity and an interesting insight into not only "ordinary" people and the events of everyday life, but also demands your attention for concerns relating to marginalised groups and social issues. Her pieces grab your attention and may sometimes make you uncomfortable as you confront the reality she is revealing; however, the message is important and sincere."
Peter Paylor of River & Main Theatre Company says "I have found Sarah to be an invaluable volunteer, raising the quality of our amateur theatre productions beyond our expectations by creating professional quality costumes, props, and set pieces whenever she is called upon. There is nothing that Sarah can't create. As a 100% volunteer-driven organisation, we can't exist without people like Sarah."
Join the QAC for the ARA Gala, an evening for the arts and celebrate arts champions! Friday October 13th, 2023 from 5pm-10pm at The Grand. There will be great food, music, a live and silent auction as well as a chance to dance the night away to the Impish Grins.
Get your tickets online at Eventbrite or by dropping into the QAC 36 Bridge St E., https://www.eventbrite.ca/e/698541024007
*Robert Stevenson, et al. MARY POPPINS . USA, 1964.
---
---
---