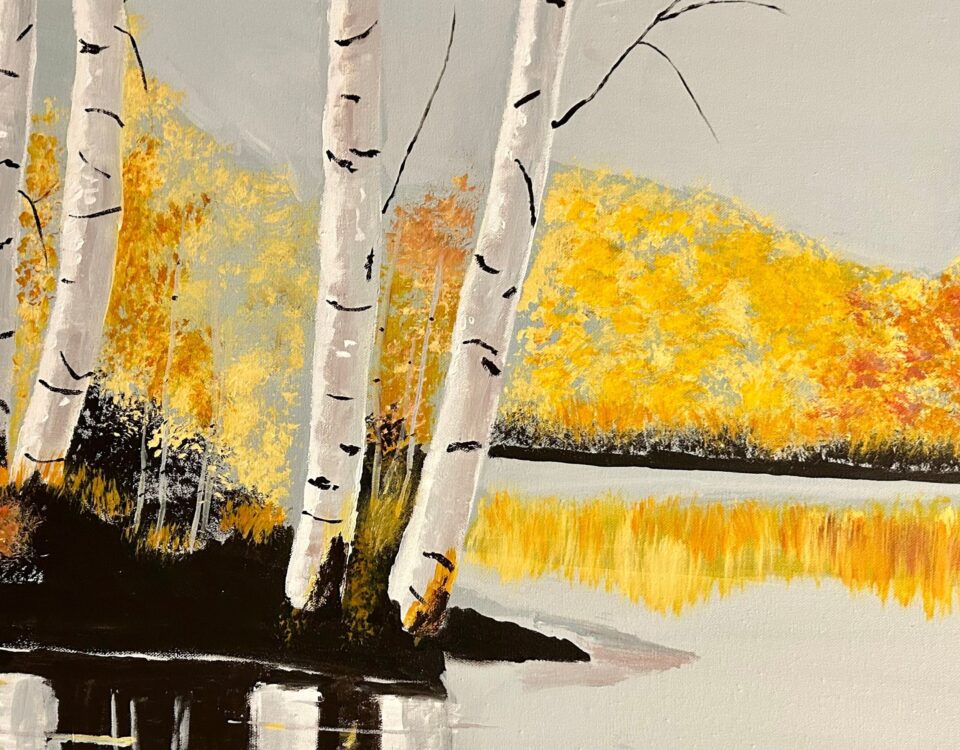 To artist Valerie Kent, trees hold a sense of magic and wonder leading her to create an entire show with birch trees as the focus. Taking place at the Quinte Art Council (QAC) August 3rd-31st, everyone is invited to the opening reception  August 3rd from 4-6pm to meet the artist, and participate in the monthly Art Walk in the Gallery District of Downtown Belleville. 
Kent is a working artist who has been painting and exhibiting her work across the world for over 50 years. Kent has participated in solo and group exhibits in France, Italy, Korea, China, Holland, the United States, Japan and Canada. She is also an art educator and has taught all levels of art from elementary school to universities and beyond. She has a passion for painting en plein air and works in a variety of mediums.
"For the Love of Birch, is my personal homage to birch trees. They are elegant, with an innate regal beauty. Birch purity is one of innocence, life and love. Birch trees are harbingers of new beginnings, a fresh start," says Kent. "Do they have magical powers? It sure feels like it. Traditional folk stories tell of rituals with birch trees as an integral part. The bark may be used by some cultures for their medicinal powers."
"Birch trees are beautiful in every setting, and I wanted to portray them at their best: by the lakeside, along a path, in a lavender field, on a misty morning, coming out of a fog, on a summer's day in a flowered meadow," says Kent. "Some of the birch trees are as if in a dream. These birch landscape images are studio works and I wanted to share my love of these marvels of nature's palette."
Painting fuels Kent's creativity and brings happiness to her life. She wants nature lovers and tree enthusiasts to experience this and enjoy her artwork. Kent encourages anyone who enjoys art to get involved as it brings meaning to the world. 
"I continue to love to paint. Creating this new Birch Series is a joyful experience. I am happy putting acrylic paint to canvas with hope that other lovers of birch trees feel the same spiritual peace," says Kent. "If you are moved to get into art, whether as a collector or an artist, it is a never-ending source of renewal. As an artist, each time you create you are surprised; delighted to see what exciting images you can conjure up. You can do this on your own, or take workshops and courses, as much for the art instruction as for getting to know others who enjoy making art. "
Kent encourages everyone to connect with the QAC, be a part of your art community, network with artists and patrons, and open yourself up to everything the community has to offer.
"Definitely join art organisations such as the Quinte Art Council. They will inform you about what is going on in the art world in your corner of the world."
For The Love of Birch is on display at the QAC Gallery, 36 Bridge St East, 
until August 31st. Opening night with an opportunity to meet the artist will take place August 3rd from 4PM-6PM.
---
---
---