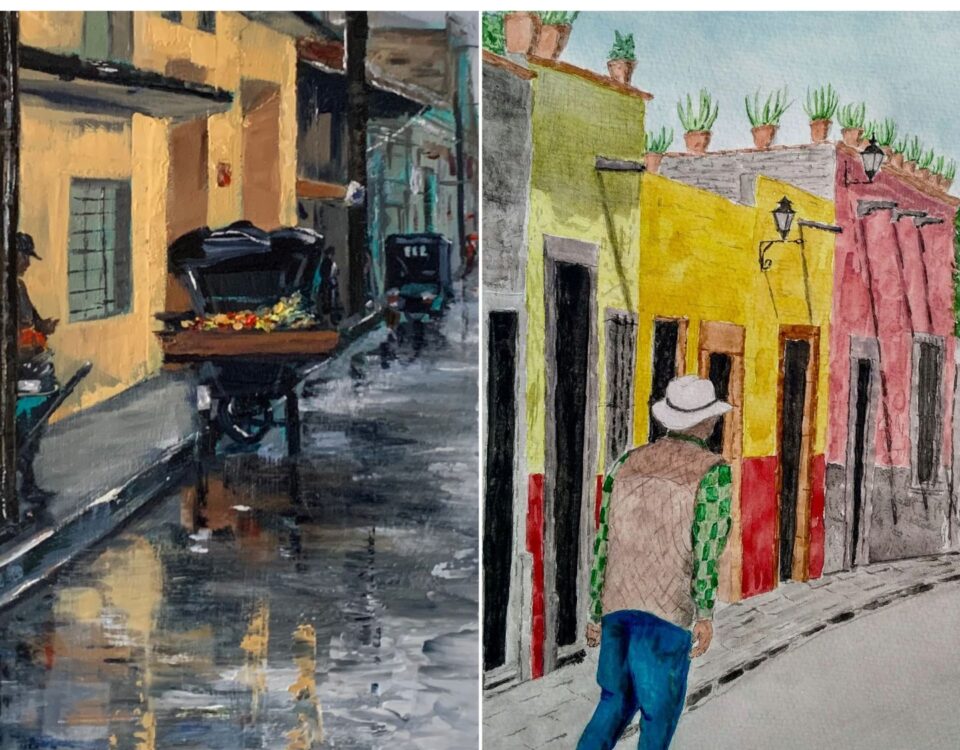 Most people think of a duet as two musicians playing a piece of music together. The Quinte Arts Council (QAC) is using the term to describe two artists sharing their work with the community together. "Duet with Bev Shepherd and Hugh Perry" is a joint effort by two emerging artists in the Quinte community. 
The show features two artists whose works compliment each other. Hugh Perry paints in multiple mediums and his works feature many different landscapes. Beverley Shepherd works in oil and her works focus on the outdoors and her time in Cuba. Together their duet is about our world and will give viewers a chance to feel like they're exploring the globe. 
"Having a duet show is a great way to introduce and connect emerging artists to the community," says Janet Jarrell, QAC Executive Director. "Emerging artists may not feel ready to have a show of their own; collaborative installations offer a safe environment where artists can display their work with confidence, network with others and they support the growth of artists. Thanks to the generous support of the Parrott Foundation, the QAC is able to present gallery programs designed to celebrate and support these emerging artists." 
Perry liked creating from an early age but never made the time, until recently, when the artistic bug found him again. He is looking forward to having a show at the QAC gallery to connect with the community.
"At the age of 10, I created my first painting for my grandmother, on the back of an old glossy calendar page and then waited another 50+ years to do my next one," said Perry. "Now it is a real privilege to be invited, by the QAC, to share my artistic side with the community. Teaming up with Bev is an additional honour."
The creation of visual art pieces can be more of a solitary path Shepherd believes art is collaborative. 
"I am very excited and appreciative of the opportunity to be in this show. Art is a personal journey, but I feel it must be shared with others," says Shepherd. "Doing a show with Hugh Perry is exciting as well because he brings a unique perspective and background to the show. I am anticipating some thought provoking visuals. It will be interesting to see."
Art is meant to be shared with the community. Perry and Shepherd want their work to be viewed and have viewers come up with their own interpretations of the pieces. 
"Most of my works tell stories and when a piece excites the viewer's own imagination of what that story might be, I know the piece has embraced them for a moment," says Perry.
"I really want people to stop and think when they see my art. I want it to draw them in and have them stay a while in the painting. I hope they walk away feeling it was worth the time they gave to it. This Cuba series may evoke a variety of responses – it is an historic, complex, stressed, and beautiful island country. I just wanted to capture some of the emotions and beauty I felt when we visited. I hope I have captured some of this beauty and complexity in my paintings," says Shepherd.
Perry feels grateful that the artistic community in Quinte is so active.
"Where there are strong creative communities, everything comes alive and this area is attracting more who want to participate. Without this I could not be here."
Shepherd is glad for the sense of community an active arts community brings. The togetherness of seeing work in person instead of online. 
"I only arrived to the art world 15 short months ago, but it has become the majority of my world – it is where I am most settled – with a paint brush in my hand. Having a local art scene allows me to share my journey with others and that is more important than most of us realize. The gallery show allows people to see the art in front of them rather than on a computer screen – it is a completely different experience. I am very grateful to QAC."
Shepherd, a former healthcare worker, imparts these thoughts about art as a whole. 
"Art is more important than any of us realize – I worked for 40 years in healthcare and never gave it much thought – art helps heal the soul."
Duet with Bev Shepherd and Hugh Perry is on display at the QAC Gallery, 36 Bridge St East, until April 28th. The opening reception with a chance to meet the artists will take place April 6th from 4PM-6PM. 
---
---
---