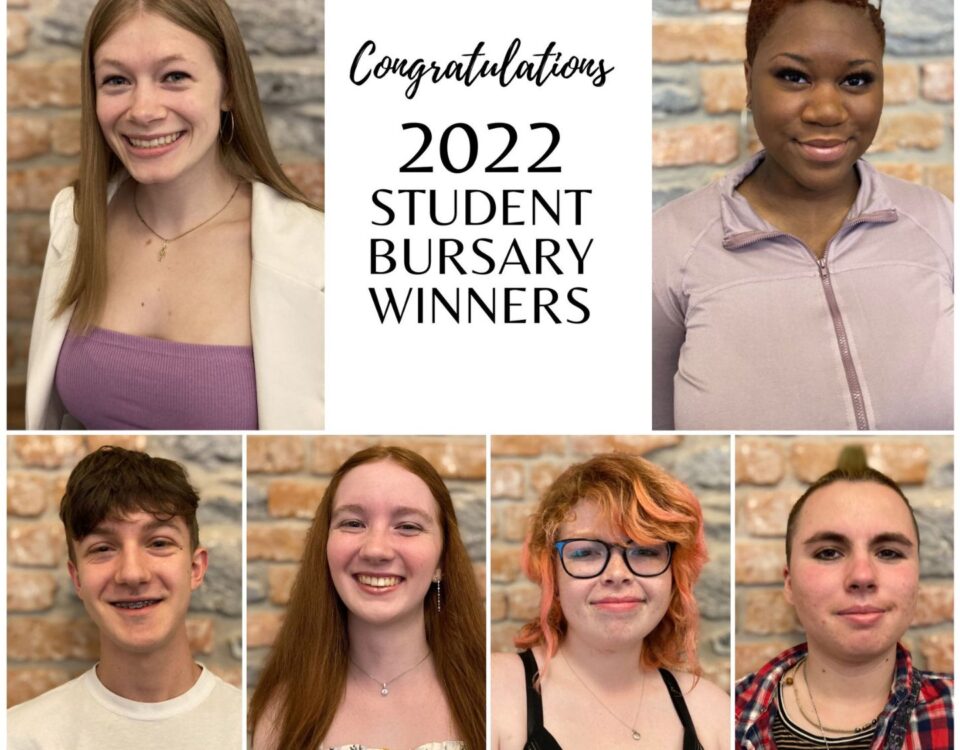 The arts foster creativity, passion and drive. An arts-based education is a foundation on which a lifetime of success can be built. Each year, the Quinte Arts Council (QAC) awards six bursaries to students graduating from secondary schools in the Quinte region who are going on to study the arts at a university or college in Canada.
Pursuing an arts education can be difficult but incredibly rewarding. There is a skill-set that is developed during an art based curriculum such as research, analyzing and critical thinking; art affects the fundamental sense of self.
Andie Csafordi, recipient of the 2021 Hugh P. O'Neil Arts Bursary, says about her arts education "For anyone considering a degree in the arts, I can't encourage you enough. The skills you'll learn, and the experiences you will encounter as an art student in post-secondary will be the ones that will resonate with you and benefit you, for the rest of your life."
Arts education is a core part of the QAC mandate. The Artists in Schools program helps expose students to different forms of art and practicing artists while filling gaps left by funding shortfalls. The Bursaries for Graduating Students program helps support the next generation of artists further their post-secondary education in the arts. 
"The students who received the 2022 Graduating Bursaries spent half their high school careers in some form of lockdown. They are a resilient group of students who pursued their passions despite extreme adversity," says QAC Executive Director Janet Jarrell. "Supporting arts education for students is critical because it supports art as a viable career."
The recipients of the 2022 Graduating Student Bursaries are:
The Elaine A. Small Bursary:
Neon Revell, is graduating from Bayside Secondary School and will be continuing on to Concordia in the fall to study Studio Art. Art is incredibly important to Revell.
"Making art gives me a way to process events, feelings, and to express what's in my head when I can't convey it with words," he says. "Experiencing other people's art is an amazing way to connect, to get a glimpse of what's in their heart and their lives."
The Hugh P. O'Neil Bursary:
Payton Denyes is graduating from Centennial Secondary School and will be attending Toronto Metropolitan University to study Media Production. The arts are about collaboration for Denyes. "Next year, I would love to combine my passion for the arts with my dream of working with people in a career that supports the creative growth of others while creating films and events that inspire on a global scale," she says. "I want to work in a diverse industry such as the entertainment and film industry where I can help others share their stories."
Holli Finch is graduating from St. Paul Catholic Secondary School and will be attending the University of Ottawa to study Fine Arts. The QAC believes that the arts can, and should be a viable career that can provide for a person. Finch believes in this and knows being in a job you love makes all the difference. "Rather than dreading going to work every day, which makes up most of one's life, I want to do something that excites me," she says. "I want to create something I am proud of. This is what art is for me, it is my expression, my means of exercising my creativity and hopefully I can live off this."
Susan Richardson Bursary:
Anissa Nielsen is graduating from Centennial Secondary School and will attend Queen's University with a Major Biochemistry and a Minor Music. Nielsen has been a volunteer with the QAC, hosted an youth EnvionArt show earlier in 2022 at the QAC gallery and was on the QAC youth advisory committee. Nielsen is passionate about the arts and music in particular. "After graduating, I would like to continue performing, as I cannot imagine my life without music. I wish to remain involved with the arts – particularly classical music – in the community, and would love to eventually direct a youth choir," she says. 
Quinte Arts Council Bursary:
Gabrielle Edwards is graduating from Trenton High School and will attend Seneca College to take Acting for Camera and Voice. For Edwards, an arts education is about creating change. "I am pursuing a career in the Arts because of the positive influence I can create as an actress and producer. As I continue to grow in my school community, I am extremely grateful for the opportunities I have had to make a positive difference and cannot wait to make even more change in the Arts community," she says. "I look forward to creating diversity with my artistic creations and creating more opportunities in the film industry for people who aren't given opportunities that they should."
Ryan Gray is graduating from Centennial Secondary School and will be attending  Toronto Metropolitan University to take Media Production. The arts have been a way to embrace emotions and help create change for Gray. "It may sound cliché, but through my love of music, passion for visual arts and relating to movies, I have processed key moments of my life through this creative outlet," he says. "Media is an integral part of society and has immense power to effect change and it is my hope to be able to have a career in this field, changing our world. I constantly find myself taking one form of media and creating another one through it." 
For more information about our Arts Education Programs, please visit 
---
---
---