Umbrella
Don Fraser
Don Fraser: The sketch hunter
by Paul Kite
Tweed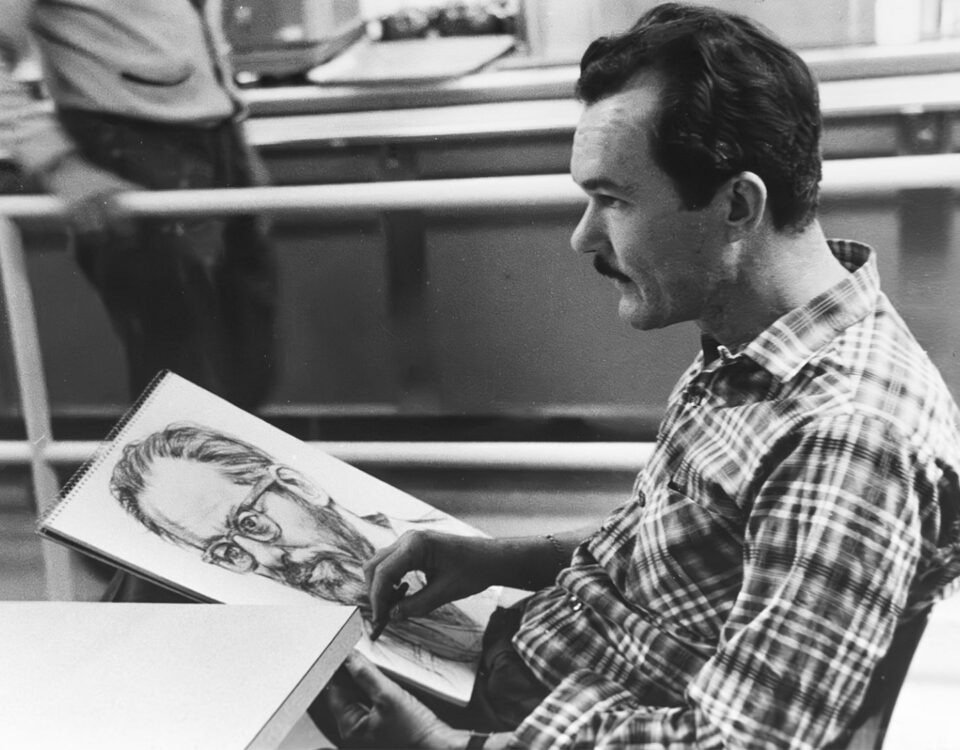 The phrase 'the sketch hunter' was a term used by Robert Henri, an American artist and inspired educator from the early part of the last century and Don Fraser's muse. Fraser would produce thousands of sketches, hundreds of paintings, hold dozens of solo and group exhibitions, including an invitation to exhibit at an art museum in France for 4 months. Millions would view his work, albeit anonymously, when they watched the CBC, where he worked for three decades as a scenic painter. 
Fraser was born in Kirkland Lake, Ontario in 1921. Later his family moved to the Muskoka area when Fraser attended high school in Bracebridge. Upon graduation he received a scholarship to the Ontario College of Art. Fraser's teachers included John Alfsen, Yvonne McKague Housser, Manly MacDonald, and Group of Seven member Franklin Carmichael, who would annoy Fraser with his habit of making marks over his student's work. Fraser won the Governor General award of Excellence upon graduation. Following college he taught art, worked as a commercial artist, and accepted private commissions, especially portraits. 
Sketching was a passion throughout his life. Pen, ink, sepia, charcoal, conté, whatever was at hand to draw and draw on. Fraser liked sketching rural and urban landscapes, life models at school, and patrons from the inner-city pubs like the Paramount and Waverly.  He re-cycled many different materials for sketching, including the inside of his pants pocket once while on his way home on the streetcar. In 1955, Fraser joined the CBC as a scenic artist. At the CBC, he created small and large works, recreating Roman walls, forests, valleys, and even reproductions of Emily Carr's work for a show about the famed artist. For three decades, until he retired in 1986, Fraser would paint TV sets by day and teach life drawing at Northern Secondary School in the evening. He also entertained his fellow CBC colleagues by sketching their portraits during breaks, producing several hundred by the end of his TV career.  
For many years he taught at the Madoc Arts Center and the Schneider School of Fine Art in nearby Actinolite. Upon retiring he moved to Madoc where he and his wife Catherine became acquainted with the owner of a local art gallery who persuaded Fraser to let him exhibit his work. He would form friendships with many of the local artists with whom he would travel throughout the region, including Poul Thrane, Lucy Manley, Audrey Ross, and Ron Leonard. In the early 90's, an art curator from La Rochelle, France, was so impressed by Fraser's work that he invited him to attend and exhibit 70 of his paintings for 4 months at La Musée du Nouveau Monde in 1995. 
Today, Fraser's artwork is still in demand and although he would be pleased, it was never of great importance to him, it was simply about making art. Fraser passed away in 2003, finally succumbing to complications from his lifelong battle with diabetes. 
---
---
---