Umbrella
Heritage Walking Tours
Wander Local
Belleville
Peter Paylor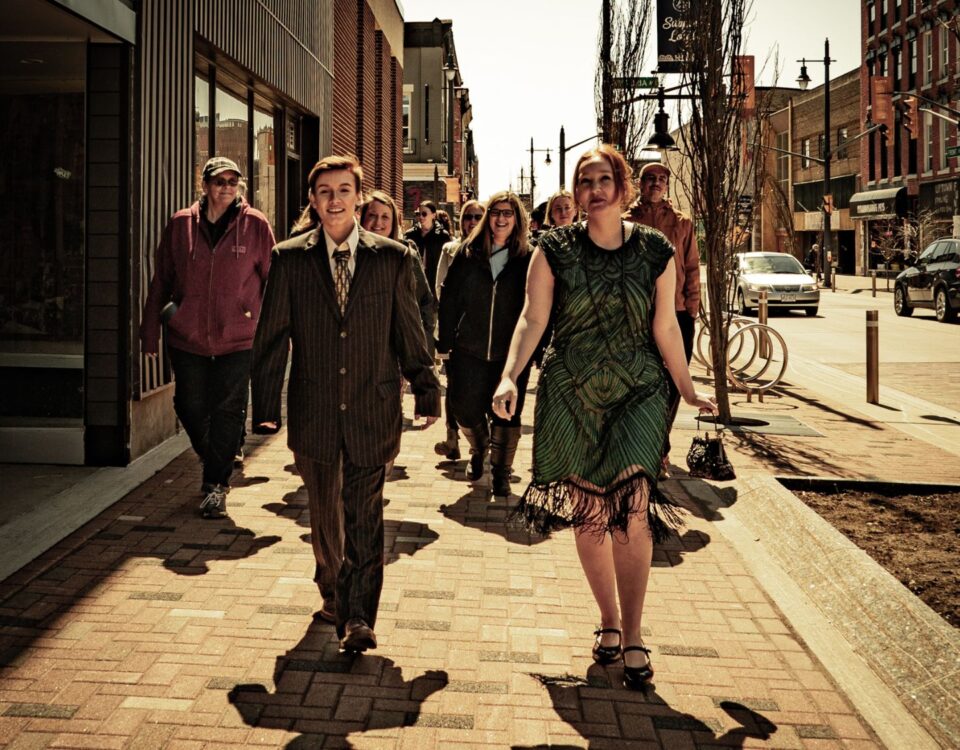 The Bay of Quinte Regional Marketing Board held a workshop on experiential tourism, led by Celes Davar, one of Canada's leading experts on experiential tourism. Davar, President and "Chief Experience Officer" for Earth Rhythms, an award-winning experiential tourism company based in Nova Scotia's Gaspereau Valley, made believers of everyone involved. The idea is simple – what tourists want most from a destination is to experience local art, cuisine and history through the eyes and the stories of the people who live there.
That workshop led to the crafting of a number of exciting Bay of Quinte experiences, including "Wander Local"- a series of walking tours "that capture the unique stories, urban nature, and public art of Downtown Belleville against the backdrop of a history worth remembering."
One of these tours will begin this spring when both tourists and members of the local community will be invited to participate in an immersive theatre experience called "Whisky and Wingtips." It's a historical walking tour built into a play – a romantic comedy set in the 1920s about two star-crossed lovers, separated by their families who are on opposite sides of the laws against liquor. Henry is the nephew of Claude Cole, a notorious rum-runner. Alice is the daughter of Frank Naphan, Belleville's Licence Inspector under the Ontario Temperance Act. Alice and Henry are out on a date. As they wander along the streets of downtown, they run into four young men, each of them named Joe, each of them played by Belleville actor J. P. Harvey. "He's the bridge between the story and the audience," says Harvey.
"There's a part of this production where we get the audience fully involved," says Kodie Trahan-Guay who plays Alice. "I think that's going to be so fun for people to learn a little bit about the 1920s." Kodie describes Alice as "a modern 1920s woman who knows what she wants and goes after it with her whole self."
Paige O'Brien plays Henry. "I'm a loveable guy who kinda skirts the law sometimes but I really just wanna impress Miss Alice Naphan. I want people to look past the sort of gruff exterior of Henry and see the kind heart he's got." O'Brien believes the audience will "look at downtown Belleville with a different eye after this experience." 
"Local history is the most relatable history," says Stacey Kerr of Scalliwag Toys, who along with partner Stuart Long, is producing the show. "It's what people experience in their day-to-day lives, and I think that that type of history goes unappreciated and under-explored and really it's the fun, exciting, and interesting part. This is a way to remind people of their heritage and share it with people that are coming and exploring and trying to get a sense of that small-town feel, because to be honest, most of the time, in different places in Ontario, that gets torn down and lost because it isn't protected, and it isn't shared. Being able to help preserve that and share those stories, I think is really important and I think doing it in a fun way will get people to appreciate it more."
"I think people are going to have a fun time. The 1920s is a fun era and I hope this production takes people there," says O'Brien.
"I think the audience is really going to have a lot of fun experiencing history," echoes Harvey.
"Whiskey and Wingtips" and Wander Local are supported by the Bay of Quinte Regional Marketing Board, the City of Belleville, the BDIA, the Province of Ontario, and RTO9. For more information visit www.scalliwagtoys.ca/wanderlocal.
---
---
---