Umbrella
Jonathan Maracle
The Healer
Greg Cici
Tyendinaga Mohawk Territory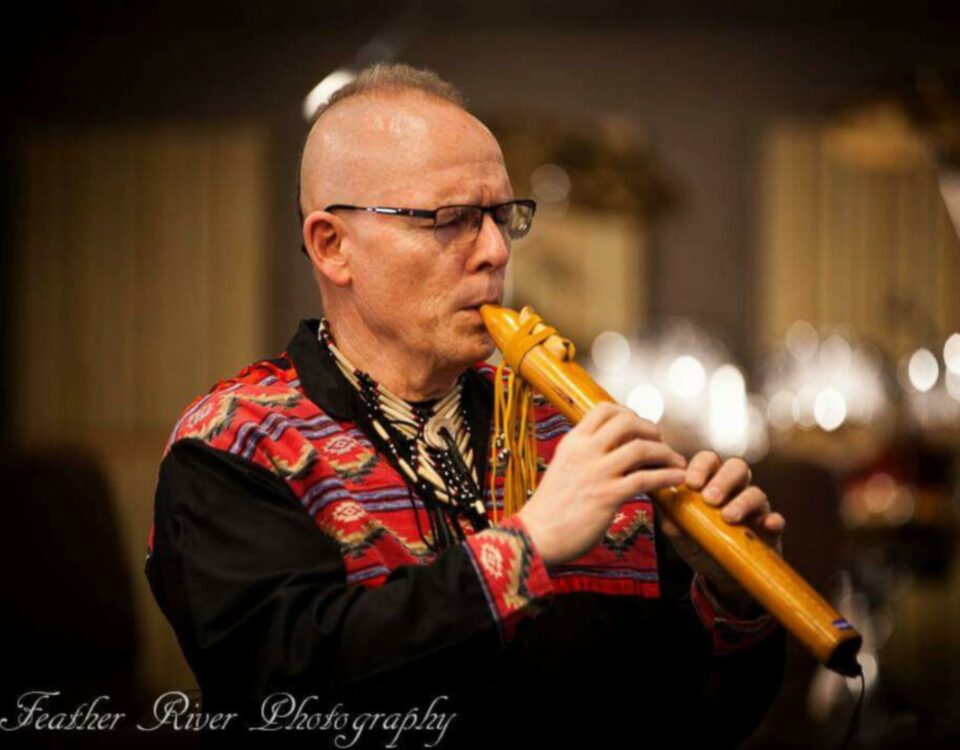 How many discovered indigenous children is enough? Is 215 enough? Maybe it's 4118. Mohawk musician and songwriter Jonathan Maracle has wrapped himself in a blanket of culture, heritage, traditions and love of music to educate and ensure his healing message of truth and reconciliation is heard by all. 
Maracle was born in Akwasasne, a Mohawk Nation in New York and at twelve years old relocated to Tyendinaga Mohawk Territory in Ontario. Early years were spent with his best friend Jerry fishing, swimming and exploring the St. Regis River and Fulton's woods. Being a blue eyed, fair skinned indigenous child, he was bullied by other Indigenous children on the ride to school and Maracle also recalls, "When the bus arrived at school the reverse would take place and the white kids would give me a hard time because I was getting off the Indian bus."   
Those early experiences, as well as a missionary father, forged and wrought his character and life's direction. Maracle notes, "I saw how my father, as an Elder, shared his love and hope with them through his indigenous expression and language and I feel like I have the privilege and duty to continue the work my father exampled to me for so many years."
 
He has continued his father's work through his songwriting, solo performances and band Broken Walls. A prolific songwriter with 14 albums based on his Indigenous culture and traditions, Maracle remarks, "These albums are meant to bring restoration, forgiveness and a general healing to Indigenous people who have or are dealing with bitterness and unforgiveness as a result of the treatment their people have suffered under colonialism and the Doctrine of Discovery."   
After absorbing some prophetic words by Osage Elder John Sanford at the Sacred Assembly in Quebec, Maracle was compelled to write the song "Broken Walls" minutes before he was to hit the stage and sing "Amazing Grace." Instead he sang his newly minted song and was moved by the reaction. Maracle describes one such reaction from an Indigenous man who said, "I've always hated white men for what they've done to my people, but today I don't want to hate them anymore, will you please forgive me?"

The room filled with sobs and cries for forgiveness – a powerful and pivotal moment for Maracle. "The song "Broken Walls" was the beginning of an awakening for me, it showed me that using my cultural expression in songs could be a part of the restoration that needed to take place in the hearts and lives of Indigenous people."

He isn't just a talented Indigenous musician, he's become a spiritual healer. Broken Walls tours worldwide with over 800 shows since 2000, offering healing music where truth and reconciliation are needed most. His greatest achievement, "After 28 years, I'm still seeing Broken Walls grow."

Through the therapeutic magic of music, Maracle has spent his adult life passionately educating and healing both Indigenous and non-Indigenous people while mending the rift between them.
Broken Walls consists of Jonathan Maracle (Mohawk), Bill Pagaran (Tlingit) and Josh Maus (German-Austrian). You can listen to Jonathan Maracle on Spotify, Apple Music, Amazon Music, YouTube and the website.
brokenwalls.com
---
---
---