Umbrella
Joseph and the technicolour dreamcoat
Meet the Stellar Cast of Joseph & The Amazing Technicolor Dreamcoat
Tweed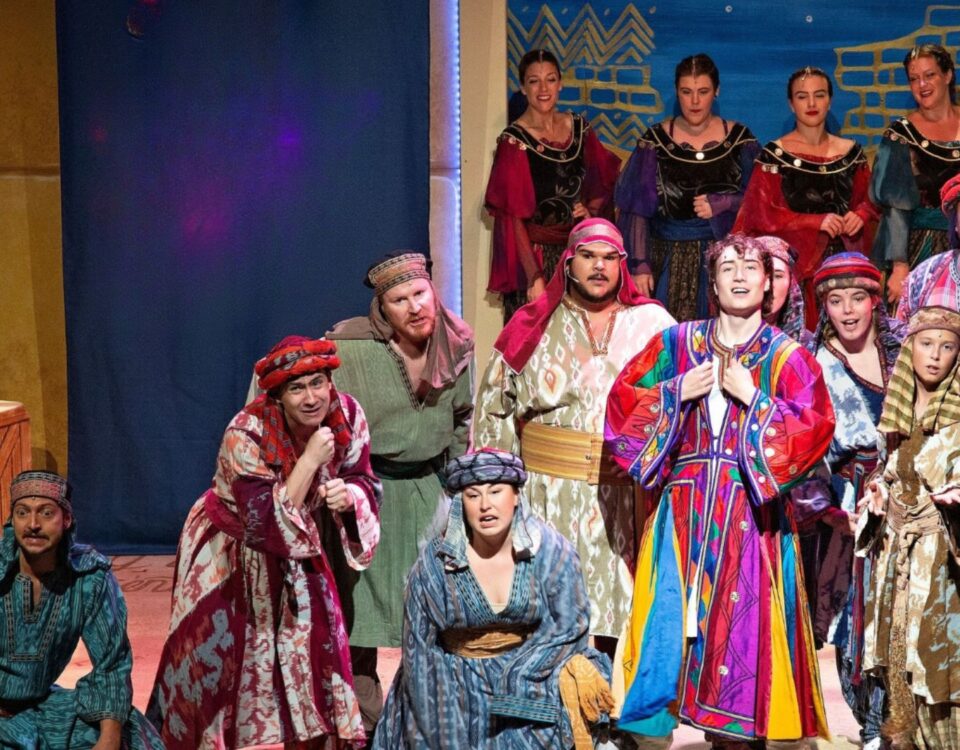 Over 15 years ago, Tweed & Company Theatre was founded by a group of local Hastings county performers who noticed a lack of professional entertainment in the area. "We wanted to create a space to amplify Canadian-made musicals," says Artistic Director Tim Porter. "And bring big, high-caliber shows to the area." 
The company's growth has been explosive. Over the last two years, they became owners of their longtime performance space, the Marble Arts Centre in Tweed, and took over operations of the Village Playhouse in Bancroft. This spring, they officially opened their third venue: the Tweed & Company Outdoor Stage. 
Their 2023 season is the biggest one to date, filling the three venues with a full lineup of musicals, shows, and concerts. Some are new works, and others are Broadway mega-hits, like Joseph & The Amazing Technicolor Dreamcoat. 
The world famous Andrew Lloyd Webber/Tim Rice classic is at the Bancroft Village Playhouse this August. And as always, Tweed & Company has put together an incredible cast of professional and local talent. 
In the title role of Joseph is Christopher Sherwood, a recent graduate of Randolph College for the Performing Arts. Company favourite Jessica Wilson is returning as the iconic Narrator. Audiences will remember Jessica from Hastings! The Musical, My Funny Valentine, and A Tweed & Company Christmas. Taking on the daunting characters of Jacob/Pharoah is Mirvish veteran Kent Sheridan – who was also in last year's production of Mamma Mia! 
Others returning from Mamma Mia! are Danelle Charette, Adam Holmberg, Nick Sheculski, and Natasha Hurst. Also coming back is Cassie-Hope Aubin (Ride the Cyclone) as the ASL Narrator, and Jacob MacInnis (last year's pantomime, Cinder-Ellie) as Potipher/Simeon. 
Rounding out the cast are company newcomers Ha'Keena Maneso, Josh Alcantara, Jarret Cody, Stephanie Visconti, Katie Baylis, Emily Young, and Jen Kehoe. The show also debuts young local talents Josiah Hill and Koda Carriere and will feature a community children's chorus! 
Putting it all together is director Phil Nero. Kalie Hunter Nero is also returning as a cast member and choreographer, and musical direction will be led by Jake Schindler (Ursa: A Folk Musical). Rounding out the team is stage manager Tracy Lynne Cann, children's 
chorus musical director Dianne Garbutt Winmill, technical direction/sound design by Alaynah deKleine, set design by Teddy Moynihan, Becky Marlin as assistant stage manager, and costumes by Jocelyn Perry. 
This season is especially poignant – earlier this year, Tweed & Co lost an integral founding member and dear friend, Joel MacMeekin. The company knows MacMeekin would have been so proud of this, their biggest, most exciting season yet. 
As they continue to grow, the company has stayed true to its original values – boosting local artists, creating original works, and providing Hastings County with professional, high-quality entertainment. "We're honoured to be the community arts and culture hub," Porter adds. "There's so much talent and inspiration here at home, and we're proud to help it grow." 
---
---
---