Umbrella
Quinte Museum of Natural History
Have Yourself a Whale of a Time
by Ardith Racey
Trenton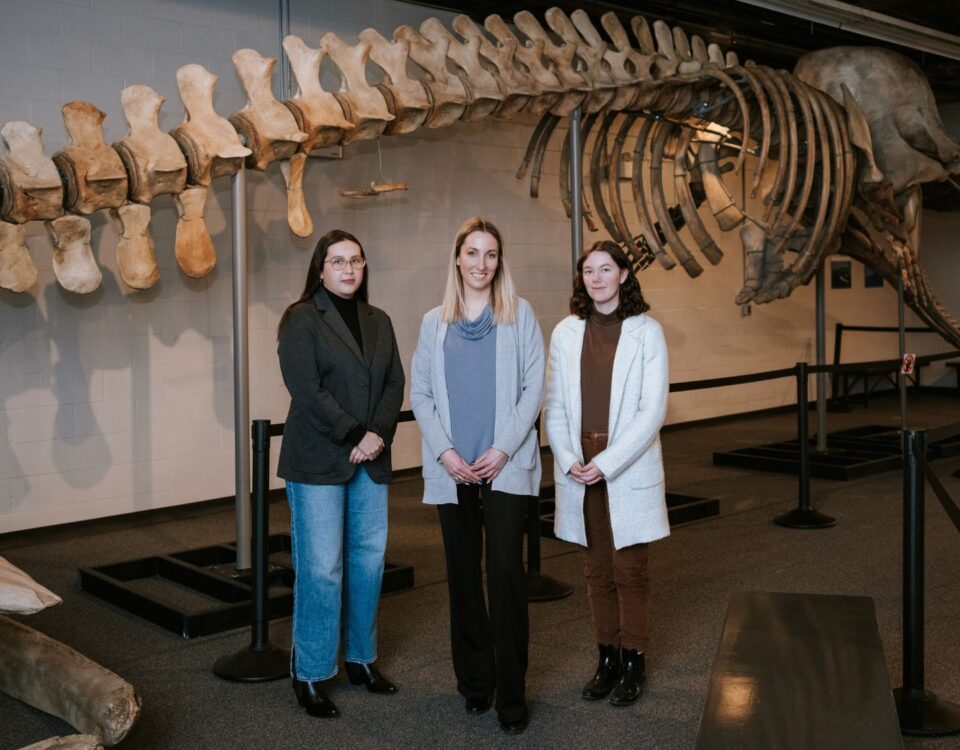 If you're one of the 18,000 people who visited the dinosaur exhibit last year at The Quinte Museum of Natural History, located in Trenton, Ontario, you may be wondering where the dinosaurs have gone, and why they've been replaced by whales. In fact, there's been a merger, of sorts: the museum now boasts local fossils, T-Rex skeletons, and awe-inspiring, life-sized whale skeletons and bones. 
The exhibits are organized in several spaces – the first area (it's new) is called 'Fossilized Quinte' – a space for kids (and adults) to touch real rocks and fossils from the Quinte area, which also adds "an element of home," says Deanna Way, Executive Director.  "The museum also got to keep three T-Rex's – two skulls and one juvenile full-size skeleton," says Way. "This year, the focus of this mini exhibit is on T-Rex in film and how the science has changed." 
However, it's Diving Deep: A Tale of Whales Though Time that is the signature exhibit for 2023. The first area explores the evolutionary journey of the whale, originally a land creature. Several of the smaller skeletons have legs and feet! 
But it's the 'Modern Whale' exhibit that is the star of the show. The large, cast skeletons of toothed and baling whales are truly majestic, and 'two real' skeletons of an Orca and Sperm whale are also impressive (it's the first time the museum has had authentic exhibits on display). The cast Humpback Whale skull is already a favourite spot for photo ops, given its massive size. Large, colourful text panels and storylines provide a wealth of information about whales, past and present. 
In partnership with Research Casting International (RCI), a 'pre-eminent Canadian dinosaur reconstruction and fossil casting company', the museum showcases pieces which have been created next door, which is the case with the whale skeletons. 
In addition to the amazing skeletons and information about whales, there's a section devoted to conservation efforts, and a new kids' area containing books, tables, pillows, and a 'bone bench'. Way says this additional space has proven to be very popular with both parents and kids. 
A Gift Shop has been added, too: you can now find museum t-shirts, and stunning whale figurines designed by artist Robin Ozard, and cast by RCI – perfect gifts for the whale enthusiast on your list. 
Way says that the idea of focusing on whales "just kept popping up," and so in collaboration with RCI, the exhibit was created. Last year, they had 3,000 people view the dinosaur exhibit in July and August (the museum has a cap of 40 people at a time), but it's gaining momentum as a tourist destination, given tremendous community support and pride, as well as "really beefing up their marketing efforts," says Way, who expects 22,000 visitors this year. 
And if you're wondering where the dinosaurs have gone, they are currently 'on tour' at Science North in Sudbury. 
You can find more information about The Quinte Museum of Natural History and order tickets at quintemuseum.org 
---
---
---