Umbrella
Ryan Carde
Art makes a full deck for Ryan Carde
Kodie Trahan-Guay
Napanee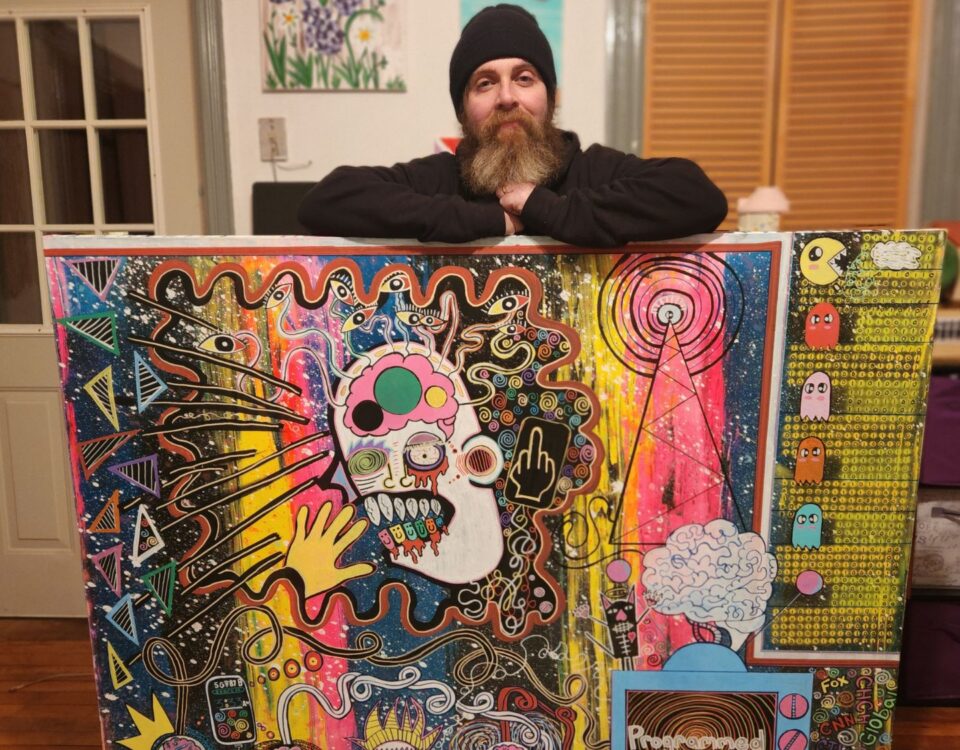 Ryan Carde, an emerging artist was born and raised in Napanee, a town with a thriving and growing art scene. Carde is an artist who uses the style of Neo-Expressionism to express his innermost thoughts onto canvas.
Carde has been interested in art since a young age. He used it as a way to escape reality for a moment and to process his emotions. He took classes while in school but had a hard time sitting still long enough to pay attention. 
"Art has always been in my life, but it wasn't till recently that I fully understood the beauty of it." When the world stopped due to the COVID-19 pandemic, Carde was diagnosed with ADHD, anxiety, and found out that his father had throat cancer. While this may have stopped some people, Carde says it actually helped him discover his calling and to push him out of his comfort zone. 
"It's only been recently that I've discovered what I'm here for and I'm going to continue to push until my voice is heard.. art is my voice."
Carde is also a musician, like his father who played many instruments and was in many bands but had a passion for drums. Carde plays the bass in Sonic Souvenir. He's self taught and feels like he has more to learn but it's a passion for him. 
"Art and Music still to this day are very important pieces to my daily activity. It's my therapy. When I paint or play music, for that tiny second all my fears fade away. I become lost in the moment, Both take me to a place mentally and spiritually! I'm at peace!!"
Neo-Expressionism is an art style that uses intense colours and dramatic figural forms and emotive subject matter. Carde loves how it creates a story for anyone to enjoy. It allows people to see things and open their minds to a new level. He tries to create a different story with each piece and wants everyone who views his work to question everything. 
"My art is a symbol of issues we face today..and will continue to face: mental health, politics, media, drugs, spiritual awakening. Being able to open your eyes and see beyond what you are told, "We are like fish, trapped in a fishbowl, we cannot see beyond our own eyes" we are all lost beings we just need guidance." 
Carde says he's always been scared to be himself and to open up but art is allowing him to push past his boundaries and to show the world what he is capable of. He wants to encourage other artists. 
"Don't give up, keep going, battle every single day, never put yourself down. Stay focused..push yourself….. Remember we are all here to do something special, you just gotta find it.. stay positive and positive things will happen."
---
---
---