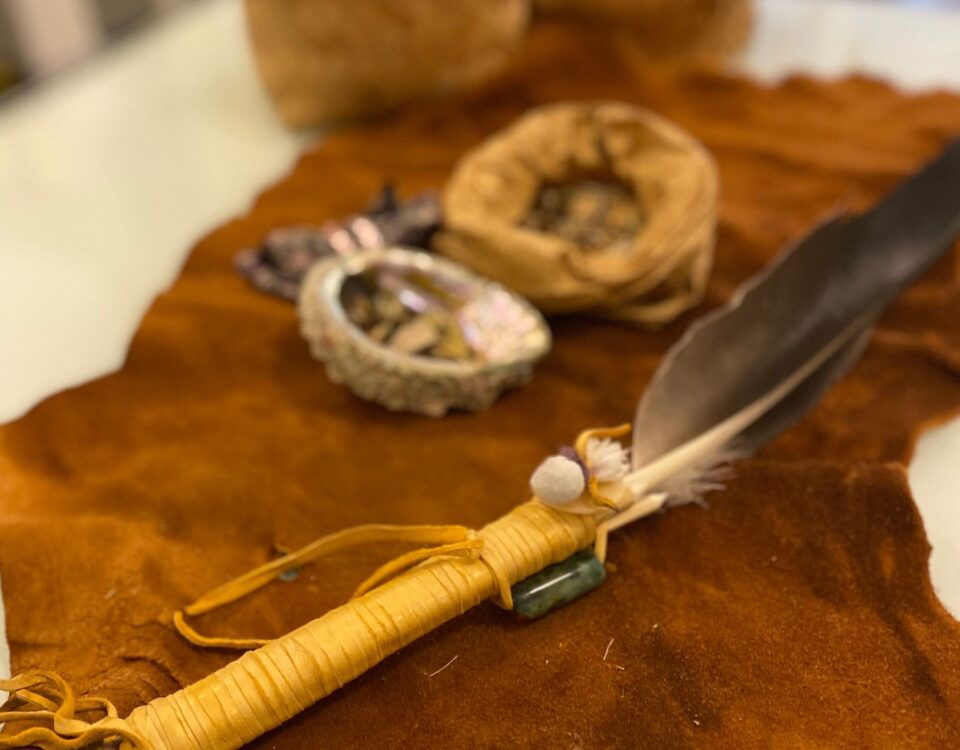 The Quinte Arts Council (QAC) kicked off this new year with a special smudging ceremony performed by local indigenous artist, David R. Maracle. Coming into this new year with an open mind, this ceremony offered an opportunity to cleanse, connect and reflect on our energy; the energy and intentions we bring to our arts community. We were left with feelings of gratitude, passion and kindness.
We are often asked "What does the QAC do?" Since 1967, the QAC has been the community leader in advancing, cultivating, promoting and advocating for a vibrant and diverse arts community of the Quinte region, while supporting the new generation of artists, offering quality experiences and arts education. "But what do we do?" 
The most recognizable work we do is the Umbrella Arts magazine. Now in its 32nd year, this quarterly publication offers the best editorial and information about arts and culture in the Quinte region.
Our work is driven by our mandate to represent all artistic disciplines; we believe the arts belong to everyone, of all ages and stages, race, sexual orientation and gender, and our goal is to ensure diverse perspectives are represented and experienced through art.
We recently added a podcast to our programming and it is fast becoming a favourite. Makin' Stuff Up offers creative conversation as the QAC team interviews leading and emerging local creatives and innovators, revealing their strategies for Makin' Stuff Up. Tune in for some inspiration on Spotify, Amazon or wherever you get your podcasts.
Annually, our Arts Education program provides quality visual and performing arts training in the classroom at local schools in the Quinte area to students grades K to 12. We also award six bursaries to students graduating from secondary schools in Hastings and Prince Edward Counties and proceeding to further education at a university or college in Canada, with the aim of pursuing a career in the arts
We have monthly programming: monthly gallery shows and professional development opportunities. In April it's Docs, Dinner and Drinks, a collaboration with Loyalist College where we celebrate new generation filmmakers. Expressions (May) juried art show for Quinte region artists – the call will go out shortly and this year the theme is Emergence.
In the summer, enjoy Quinte en Plein Air (in its 8th year), the 2nd annual Belleville Jazz Festival and later in the fall the Luncheon for the Arts / Arts Recognition Awards (29 years strong!). We do have some plans to add to the latter event – stay tuned!
Arts and culture play an important role in defining who we are as a community and contribute to a healthy local economy and lifestyle for those who live and work in the area. Our programs continue to adapt, change and evolve in response to the needs of our members and our community. 
Want to get involved? Became a member. Whether you are an emerging or established artist, student, artist member group, business or a patron, there is a membership level for you. And consider donating to support your arts community today!
The QAC team is small but mighty! We look ahead with an open mind, patience, and positivity for a connected, successful and eventful 2023.
---
---
---