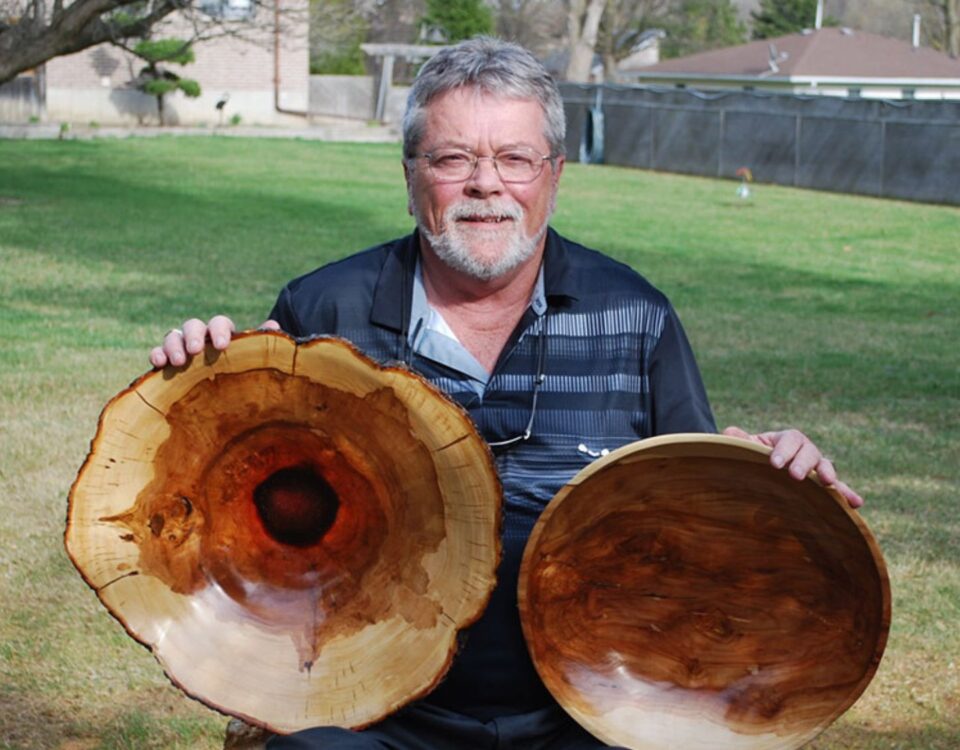 James Walt, aka Grumpsy the Wood Turner, is a woodworker based in Quinte West, Ontario. He spent a long career working in the pulp and paper industry, so transitioning to a wood-based craft in retirement was a natural move. James taught himself about wood turning using YouTube and now offers lessons to those interested in learning the craft in a more hands-on capacity. Wood Turning is the art of transforming wood blocks into bowls, vases, and other pieces using a lathe. He is a member of The Quinte Wood Turners Guild and the American Association of Wood Turners, where he finds community and mentorship.
James takes trees and pieces of wood and envisions what can come from them. Developing an eye for seeing the hidden gems inside a tree and knowing how to work with the wood to bring the creations to life keeps him excited about his art. James sources his material from local arborists and estimates that about 95% of the wood he uses comes from dead trees or ones cut down because they were deemed dangerous. The pieces he creates are both practical and artistic, from rolling pins to pens to high-end bowls. He particularly enjoys working with wood that has burls and knots because they make for attractive colour and grain patterns.
You can find James's pieces in Scotland, Switzerland, Greece, Mexico, Iran, The United States, and Canada. Interested in getting your own handcrafted masterpiece?
Contact James by email at jwalt@cogeco.ca
Image Source: James Walt via Facebook
---
---
---