Umbrella
Station Road Arts
Station Roads Art Collective – Featuring Roamin' Theatre Roulant
Prince Edward County
by Jennifer Shea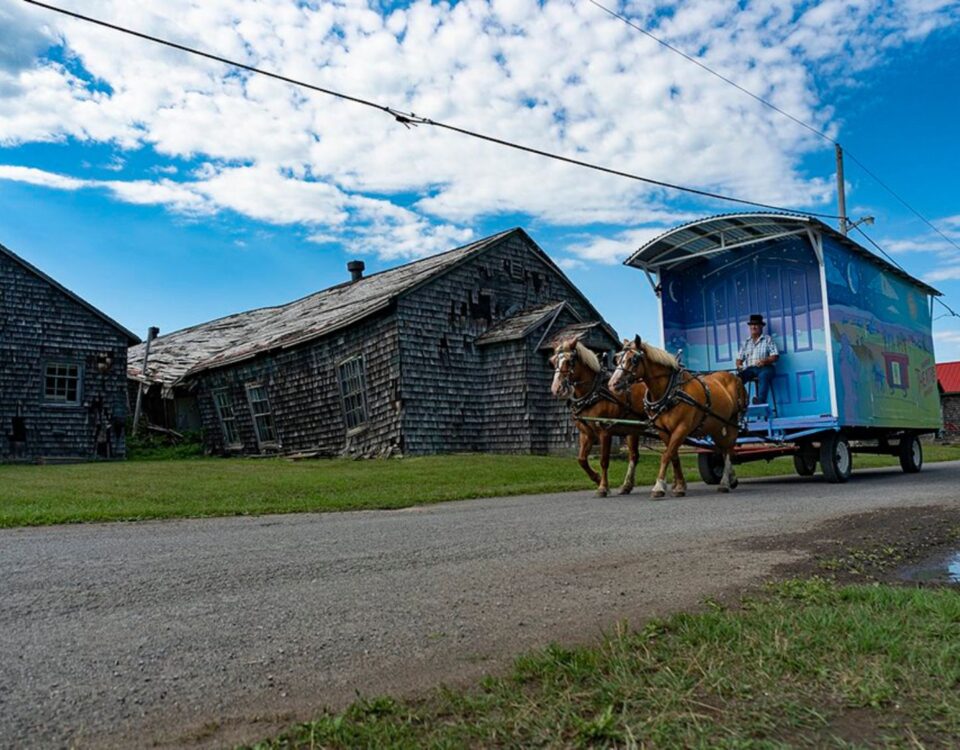 Conrad Beaubien has a way with words and a sharp artistic vision. John Burns has a way with theatrical production and direction. Together, this dynamic duo founded Station Road Arts Collective, a theatre company in Prince Edward County.
Wellington-based John was a drama teacher for 30 years. He also co-founded both The County Theatre Company and, later, the Festival Players of Prince Edward County (now County Stage Company). Conrad's background is in film, music, and visual arts. He resides in Hillier, and Thunder, the "people-whispering" donkey and Station Arts mascot, lives in Bloomfield.
Conrad and John met at a County social event in 2010. When John heard that Conrad had written an original play ("Stringman"), John asked him to send it over. The two met again over coffee at the Tall Poppy Café in Wellington and a decision was made to stage Conrad's play – at the café. They chatted with the café owner and, as John puts it, "Within ten minutes, we had a date, a venue, and a play." They were even given off-hours access to the café for rehearsals. Four performances were staged in February of the first year, and another four the following February.
"That first play established a style," says Conrad. "Number one: We do all original work. Number two: We like to work minimalist in terms of staging and communicating the story. We employ two or three actors and two musicians. It helps us a lot. We can work closely together."
John and Conrad continued offering original theatrical performances at various County venues for several years on a show-by-show basis. They managed to pull off professional theatre without losing money, thanks to the generosity of their patrons. Last spring, they formalized the structure and incorporated Station Road Arts Collective, enabling greater stability, oversight, and funding opportunities.
They are now staging their 5th collaborative production ("Rosalia's Piano"), and they have more recently added a unique summer venue: A converted hay wagon (now a travelling playhouse) they call "Roamin' Theatre Roulant". This horse-drawn theatre-on-wheels was Conrad's vision. 
"I was driving along past a hay field and saw a hay wagon sitting there. I did a u-turn and walked into (the field). I thought, 'This isn't a hay wagon. It's a rolling theatre.' So, I bought it and had it delivered to a welding shop. I wanted the curved roof like a caravan. I also wanted the roof to be transparent for lighting. We put a new floor in and replaced the tires." 
They later added four-foot double doors on both front and back sides of the 18-foot-long wagon. A small stage was built to sit on the ground in front of the double-doors and the bed of the wagon acts as a second level.
Conrad recalls a performance with the wagon at one of the County wineries. "We were doing a play and the sun was starting to set. We had the stage-side doors open. We decided to open the back doors, so the sun was setting (behind the actors) as the story went on."
"It's a delight to not only be doing original theatre but doing it in an original way", says Conrad. John comments that this is the way theatre was performed centuries ago. "The original way is medieval. This is the way they did it in the 800s and 900s. From medieval to modern!"
---
---
---