Cultivating Creativity
Tactile art show: yes, you can touch these paintings
Cultivating Creativity
Kodie Trahan-Guay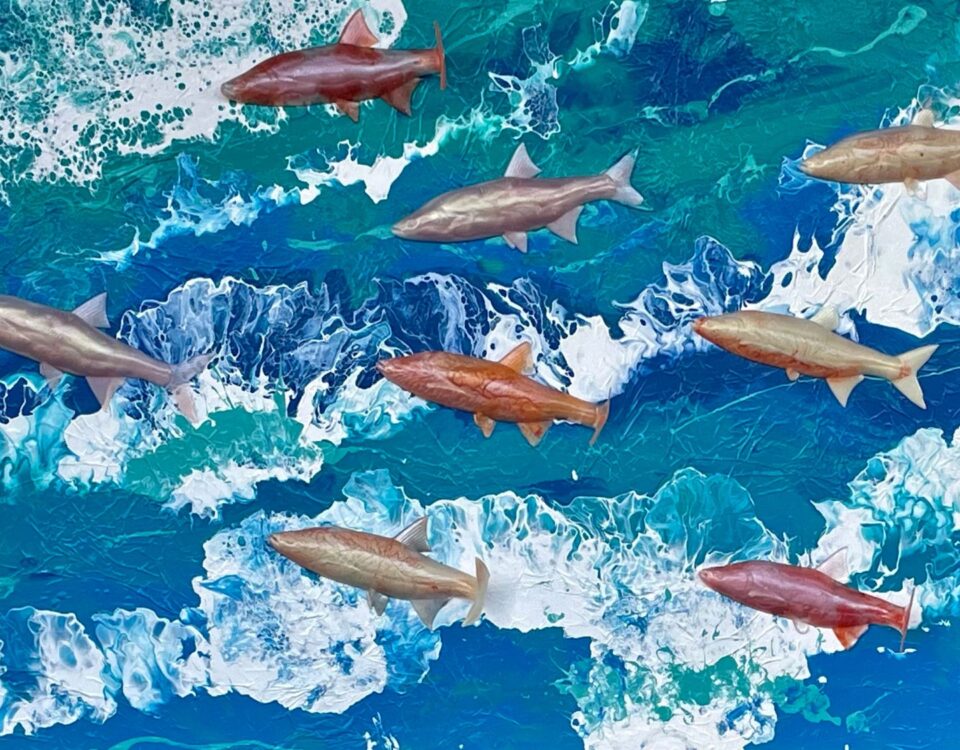 Peterborough based artist Lynda Todd, who is visually impaired, has created a unique, tactile art show to represent how climate change has impacted animals. The show Migration: Land, Air and Sea opens October 5th at the Quinte Arts Council (QAC) Cultural Hub from 4pm-6pm with a special earlier opening from 1pm-3pm for the Canadian National Institute for the Blind (CNIB). The opening gives the public a chance to meet and speak with Todd. 
"Migration: Land, Air and Sea highlights the feel and emotion of the art pieces I created that are visual and tactile representations of how climate change and human encroachment have impacted migration and the survival of a variety of species," says Todd. "I have selected Caribou, the Monarch Butterfly and Salmon because they are such an important part of our ecosystem and have captured the hearts and minds of humans everywhere. They are on the endangered Red List. They are that vulnerable. I want to share this concern with not only sighted individuals but with everyone."
Todd wanted to create art that audiences can interact with and touch. The pieces are mixed media with the entire canvas designed to communicate with the audiences, both visually, and by touch. She uses braille text and texture to bring an additional element to the art. These pieces are designed so the audience can feel how vital migration is to the environment and climate change. Todd also designed the art cards for her pieces including the information in large text and braille. 
Before beginning her artistic journey, Todd didn't think that art was something she would be able to do; but, with some encouragement she tried and hasn't looked back.
"I did not think I would ever be able to create art. I went to a workshop because the instructor kept encouraging me to try it. When I started to paint, I loved it! Suddenly it felt like something I could do," says Todd. "My work did not look or feel like that of others. It was uniquely mine. I could express my own feelings and ideas through art. I could present my concerns for the environment, for the migrating creatures, through the art I wanted to share with everyone. I began to explore and experiment with textures, collage, impasto, building up the surfaces, colour choices and resin. I loved the direction it was taking me. Soon I had enough art to exhibit and was offered a solo show."
Todd has developed her story-telling technique and this has enabled her to incorporate the storytelling directly in her pieces. She began her artistic journey by telling the stories of her paintings but as she found people were touching her paintings she became inspired.
"In the early shows I was able to tell the stories of the paintings. I described the scenes and colours through word pictures. The people who were blind touched the work to enhance the viewing. It was enough to start my mind racing," says Todd. "There was a place and a way to communicate the art and therefore, the message about migration and the fragility of animals and birds and how we need to be aware and care. It is through these tactile works that the information could be transmitted."
Todd has spent the last few years making tactile art. She began with more abstract pieces, using materials to build them up including resin and natural materials. She prefers to start with a wider gallery canvas and build from there, ensuring that the textures fit the subjects. She has found the reactions of audiences to her work to be positive. The general rule in an art gallery is "do not touch". This show is different – and people enjoy being able to touch the art. 
"The response has been exciting. I have seen sighted individuals who also relish the idea of touching the work. Touching art has been considered taboo and works are usually not to be touched. They are hesitant about touching the art," says Todd. "Visually-impaired visitors have stood by my canvases trying to figure out what emotion each artwork elicits from them."
Having been someone who thought she would never be able to make art, Todd is very encouraging of everyone to try creating.
"If someone wants to make art, I would tell them that the barriers they might feel are not what they might have been in the past. The barriers are fluid and surmountable. Trying it and getting some help, makes it all possible."
"I would like to meet many visitors to the Quinte Arts Council Gallery and to share with them my art and my story. The Opening Reception will be held on October 5th from 4 to 6 p.m. Please come out and join me. The Show and Sale will be "on view and on touch" until October 31st. I would like to thank the Ontario Arts Council for their support of this Migration Art Project and the Quinte Arts Council for presenting the exhibition."
Migration: Land, Air and Sea is on display at the QAC Gallery, 36 Bridge St East, 
until October 31st. Opening night with an opportunity to meet the artist will take place October 5th from 4PM-6PM.
---
---
---