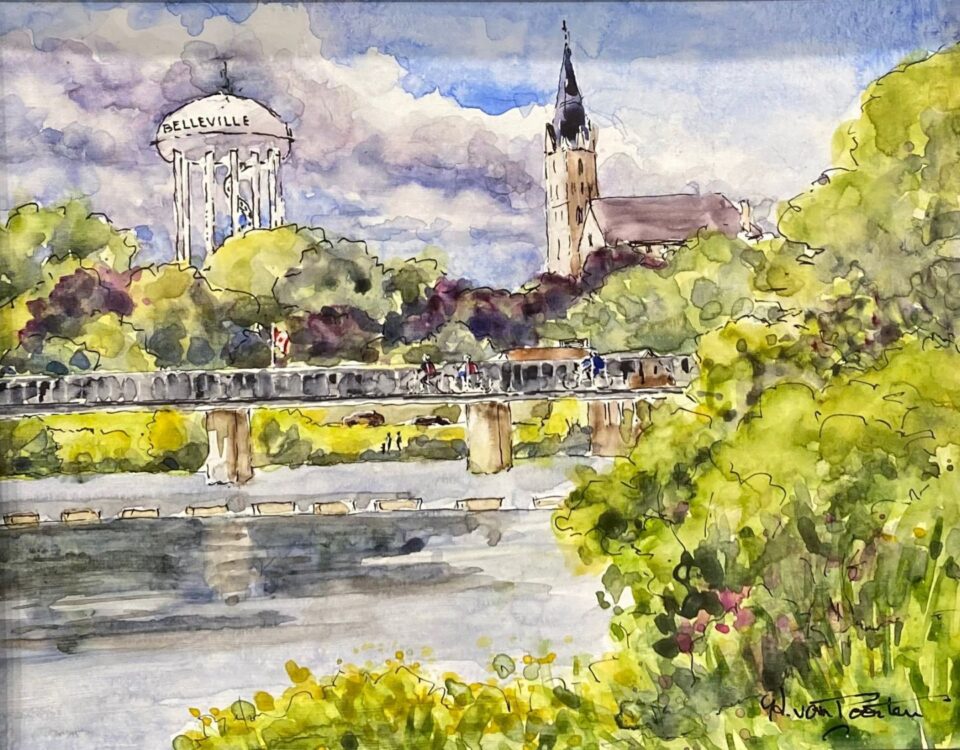 The 8th annual Quinte en Plein Air is here and this year it's bigger than ever! The main event takes place from June 22-25, 2023. Artists take their easels outside to paint the beautiful scenes of Quinte. Artist registration begins Thursday June 22 at 9:30 am. Artists bring their blank canvases into the Quinte Arts Council Community Hub, 36 Bridge St. E in Belleville, where the team will stamp them and send the artists on their merry way to paint the town. 
Artists will compete to win over $4000 in prizes including:
First place $1000

Second place $750

Third place $500

Bay of Quinte Waterfront $500

Mayor's choice $500

Best downtown Belleville $500

Artist Paint Off $200

People's Choice $150
On Friday June 23 registration continues. At 11am in the Belleville Downtown street closure on Front street, artist Andrew Hamilton will be holding a Plein Air Demonstration to showcase techniques used in en plein air painting. This demonstration is open to the public! 
On Saturday, the fun continues with two events that are open to the public, who can register via eventbrite. The first event, Brush With Nature, begins at 9:30 am. Participants gather at the QAC Community Hub and will be led by artist Andrew Hamilton to a location near the Moira River. All supplies will be provided. They will paint the scene before them until noon. Participants have a completed painting as their take away.
Not to be missed – at 10 am, the Paint Off begins and participants have a chance to win $200! The Paint Off is open to the public, registering for $20 on Eventbrite. For artists registered in the Quinte en Plein Air festival, this is included in their registration fee. The winner of the Paint Off will be chosen by the team of the Belleville Downtown District BIA. 
All weekend long there will be chalk at the QAC for people to use to create en plein air drawings outside on the sidewalk. The street closure will also have chalk and face painting!
"The Quinte En Plein Air Festival has something for everyone. Over the years, we have been surveying participants for suggestions to make this festival bigger and better," says Janet Jarrell, Executive Director of the Quinte Arts Council. "This year we are partnering with the Belleville Downtown District increasing the capacity of our small team. By joining forces, we are able to bring visitors and locals a bigger festival. Aligning with Downtown at Dusk and the downtown street closure amplifies the plein air festival, giving participants so many opportunities."
As artists paint, the public will get a chance to watch as their paintings evolve from sketch to completion, all in one location. Artists will be painting from Thursday June 22 at 10 am until Saturday June 24 at 2 pm. Artists are encouraged to post photos of themselves painting on social media, tagging #quinteenpleinair to create a virtual map for visitors to use so they can find the artists at work. Artists will then bring their paintings to the QAC Community Hub and our esteemed juror, Valerie Kent, will pick the winners who best exemplify the art of painting en plein air.
The public is invited to the awards ceremony and show and sale on Sunday, June 25 from 1:30-3:30 at Paulo's Restaurant. The show will hang at the QAC Community Hub and Gallery space on the Sunday and then from July 6-28, 2023. 
To register for Quinte En Plein Air, the Paint Off or Brush With Nature please visit: https://www.eventbrite.ca/o/quinte-arts-council-30764472326 
Quinte En Plein Air would not be possible without the help of our sponsors: Paulo's and Dinkels Restaurants, The City of Belleville, The Bay of Quinte Regional Marketing Board, Belleville Downtown District BIA  and The John M. and Bernice Parrott Foundation. 
---
---
---