Summer 2022
Quinte en Plein Air Festival
Artists flocked to the Belleville region to paint en Plein Air
By the Quinte Arts Council
Belleville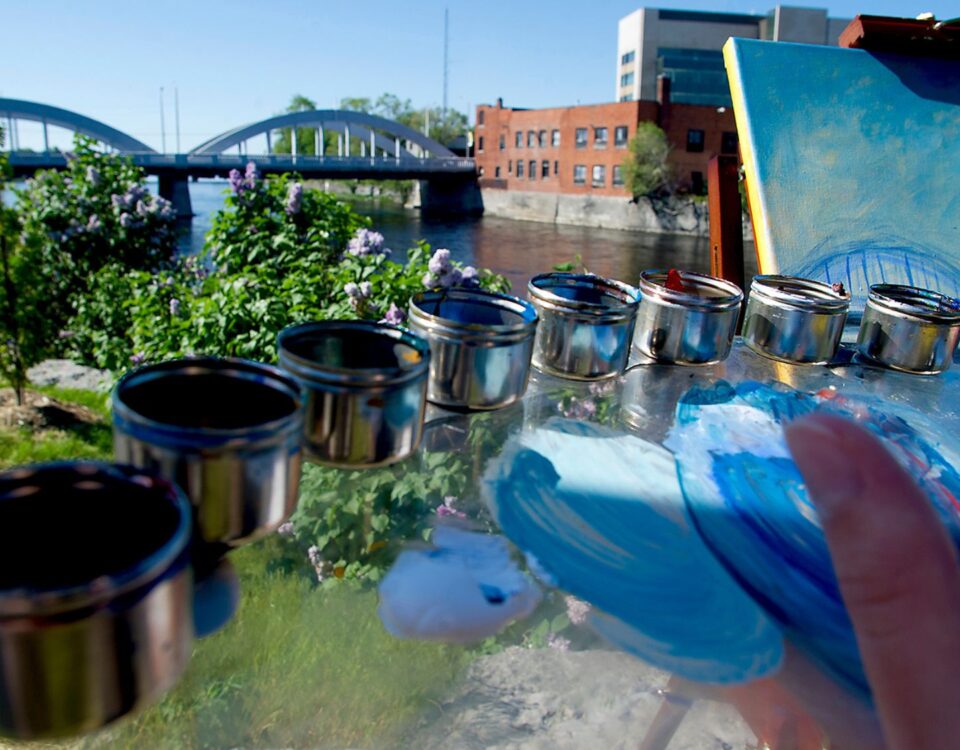 After a two-year hiatus, artists from the Bay of Quinte region and surrounding areas, and as far away as the GTA and Quebec, joined in the 7th annual Quinte en Plein air. This four-day event showcases art being created on the spot, "in open air."
As part of the Mayor's Week for the Arts, the festival kicked off with the artists registering their canvases at Quinte Arts Council headquarters on May 26th. After a day of painting in the rain, artists joined the QAC team on Friday for light refreshments at the artist's reception.
The sunny weather on Saturday brought artists out across the City of Belleville including many locations throughout the downtown core, Bay of Quinte waterfront, Victoria Park, Zwick's Park, Myers Pier, Old East Hill, and more. Locals and visitors watched as right before their eyes the artists captured the beautiful views on canvas.
At Turtle Pond, QAC's Communications and Media Director, Kodie Trahan-Guay, spotted Daniel Fobert painting the scenery from the perspective of the gazebo which happened to be occupied by fellow Plein air artist Patrick McPhee, making the award-winning painting a plein air within plein air of sorts (pictured).
On the final day of the festival, the participants work was juried by Lucy Manley (Keene) and Frank Edwards (Kingston) at the J.M Parrott Gallery.
Mayor Mitch Panciuk was on hand to give out the awards: "This week's celebrations are designed to bring attention to what we already have, to allow more residents to enjoy the existing rich offerings and provide the opportunity or path forward for expansion in our future."
"I believe Art infrastructure should be an integral part of our strategy and official plan for the City of Belleville as we consider our future. I'm pleased this City Council has agreed and made this part of our planning philosophy," says Panciuk.
Awarded Paintings:
First Prize $1200: Frank Cruzet "Bridge Street Church"
Second Prize $900: Daniel Fobert "Downtown"
Third Prize $600: Kishor Sonawane "Boat House"
Best Bay of Quinte Waterfront $500: Daniel Fobert "Turtle Pond"
Best Downtown Belleville $500: Hasibush Shaheed "City Hall from Victoria Park"
Mayor's Choice $500: Yuriy Omelyanenko "Moira river delta"
Best Rural/Agricultural $250: Jane Robertson "Grills Road Barn"
Best Architectural/Heritage $250: Kishor Sonawan "Blue Day"
Best Student $200: Zachary Generoso "Under the Rail Road"
People's Choice $150: Teddy Asuncion "Waving Flags"
Sponsored by the City of Belleville
---
---
---