Summer 2022
George Kratz
Preserving the past with ink & paint
By Ardith Racey
Heritage, Stirling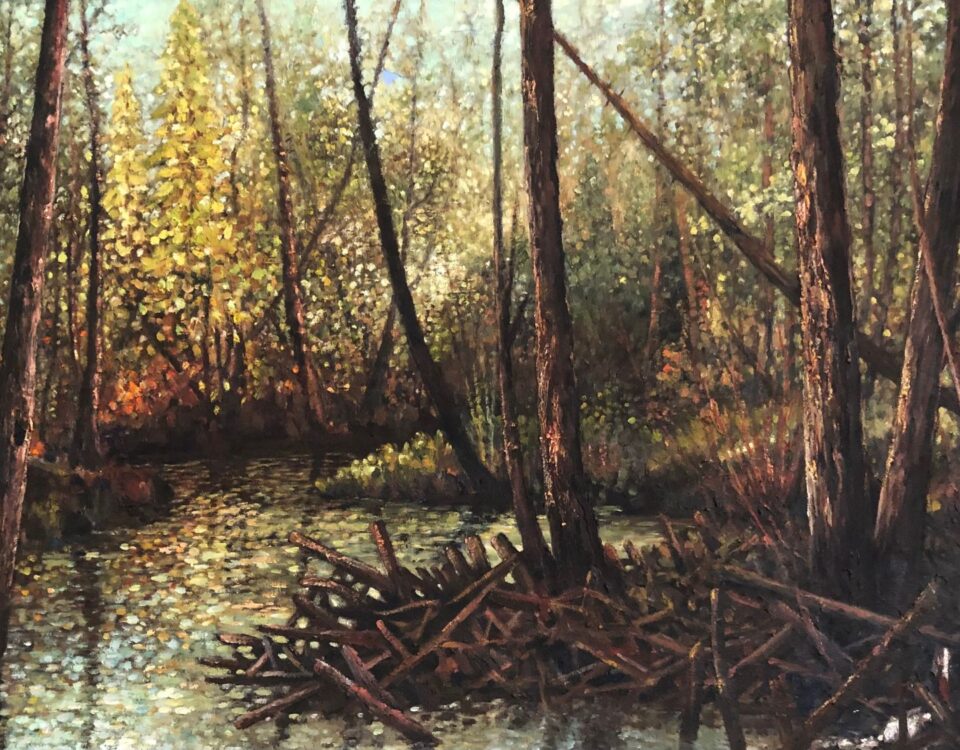 When George Kratz bought his property south of Stirling, in 1989, he had no idea that he would be an author and visual artist whose work was recently showcased at the Parrott Gallery in Belleville.
A commercial freelancer who designed logos in Toronto in the '60s and '70s, Kratz credits the "beauty of Hastings County," and a "fascination with beautiful, old buildings that are now falling apart" as catalysts for his foray into sketching hundreds of mills, bridges, canals, old barns, and houses over the past twenty years.
His recent show at the Parrott Gallery in February and March was, according to him, accidental. He went to see a show there and happened to meet the curator who asked if he'd consider having a show after she saw his copy of Into the Woods, a self-published compilation of his work. Given that much of his recent work is abstract, he never tried to sell or promote it locally.
Yet, what is unique about Kratz's work is the dichotomy between realism and abstraction. Many of his works, especially the ones that describe views of trees and swamps, are photograph-like. That is in strong contrast to others which are intensely colourful, fanciful, symbolic abstractions, often inspired by animals, that have an element of animation, a quality carried over from his days as a commercial artist.
Over the past year, Kratz self-published three books, two of which are available at local bookstores. Ontario's Waterways, journeys into our past and beyond contains hundreds of coloured, pen and ink sketches which focus on waterways, and the buildings found alongside them.
The text, also written by Kratz, provides historical background and anecdotes about the area and speaks volumes about the necessity of preserving the past. Dwellings contains sketches and information about homes, barns, mines, and churches located in Hastings County and beyond. The sketches are truly amazing in terms of artistry and meticulous detail, which Kratz credits to "being at this game for a long time."
Nor does he intend to stop. His extensive travels in South and Central America continue to influence his work, and he acknowledges that his Ukrainian heritage (mother's side) will likely compel him to "contribute in some way." A volunteer of Hospice for ten years, he's learned the value of good health, and his love for nature and animals is palpable. His favourite pastime is canoeing with his son in Algonquin Park.
He's currently working on another book, and he gives art and piano lessons to two children who are Syrian refugees now living in Belleville, whose "enthusiasm and curiosity is something remarkable." Kratz says, "you can waste time, or you can use it," and he's a shining example of someone who has no intention of wasting time. He truly values life, good health, good friends, and the arts.
He also claims to have started a new career after fracturing his ankle last winter – writing short stories.
---
---
---