Umbrella
Carl Weins
An Illustrator in Transition
by Jennifer Shea
Belleville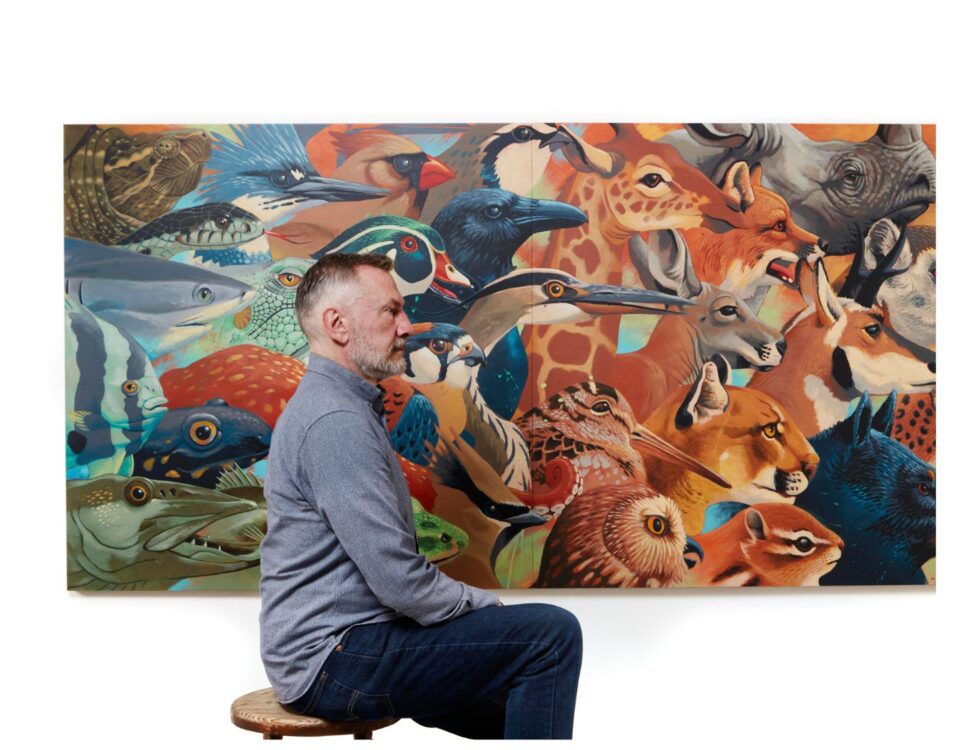 After 34 years working full-time as a freelance illustrator, Belleville-based Carl Wiens is starting to transition into an exciting new phase of his creative life: He's spending more time on his own artistic works that will be seen in area galleries. 
In the early part of his career, Wiens was part of the design team for a number of companies in Toronto before becoming a freelancer. "When I started out, I worked with ink washes, brush and ink, and pen and ink," he says. "I did a lot of black and white work, which is good to refine and define what you're trying to portray." 
A relocation to Picton in 1992 changed his approach. "I was almost forced into working digitally so I could deliver my work by email. I started out doing work in (Adobe) Illustrator, which is vector-based – simple and clean. I kind of obsess over line work and attention to detail, so I found that a friendly medium."
Wiens often starts an illustration with pen and brush, then scans it, vectorizes it, and adds further elements digitally. The result is artwork that has a hand-drawn feel, but with technical elements. "If you want to define my work, it's carefully crafted, assembled, built. I really enjoy doing scientific subject matter, and technology has always been a big part of the work I cover."
Wiens' work includes illustrations for Sanford Innovation Review, New York Times, SubTerrain magazine, The Walrus magazine, and OnEarth magazine. More recently, his commission work has largely been for academic publications. This seems fitting in that one of his influencers is Rudolph Zallinger, an Austrian-Russian artist and illustrator whose notable works include The Age of Reptiles mural at Yale University's Peabody Museum of Natural History.
Glancing through Wiens' online portfolio, you may be surprised to find a few cartoon-style images. When he was younger, he did a lot of cartooning work and even thought about pursuing it as a career. However, as a student at Western University, he was often asked to draw illustrations for the student newspaper. He enjoyed it and wanted to do more. A post-grad stint at the Ontario College of Art and Design was the last step before he began his career in illustration. He admits that he felt more confident entering a career in arts after his brother, Robert, pioneered the way as a sculptor and painter (Robert is based in Picton).
Wiens' career accolades include having a painting published in American Illustration, a juried annual that's highly recognized in the field. "It's one of those life accomplishments, a real honour. It was a giant illustration (5×8 feet), but also a painting. I spent about three months working on it and it was quite challenging." The painting was completed a couple of years ago, and it marked a point of departure for Wiens. 
Since then, his Belleville home features not only an illustration space with desktop, laptop, drawing table, and reference books, but also a painting space (in part of the garage). Wiens divides his time between the two spaces but seems to be gravitating more often to the garage.
"I've always listened to other people and responded to their ideas. Now it's my chance to take my own experiences and put those down in visual terms."
www.carlwiens.com @carlwiens https://quinteartscouncil.org/member/carl-wiens/
---
---
---