Summer 2022
2021 Arts Recognition Awards
By Kodie Trahan-Guay
Arts Recognition, Quinte Region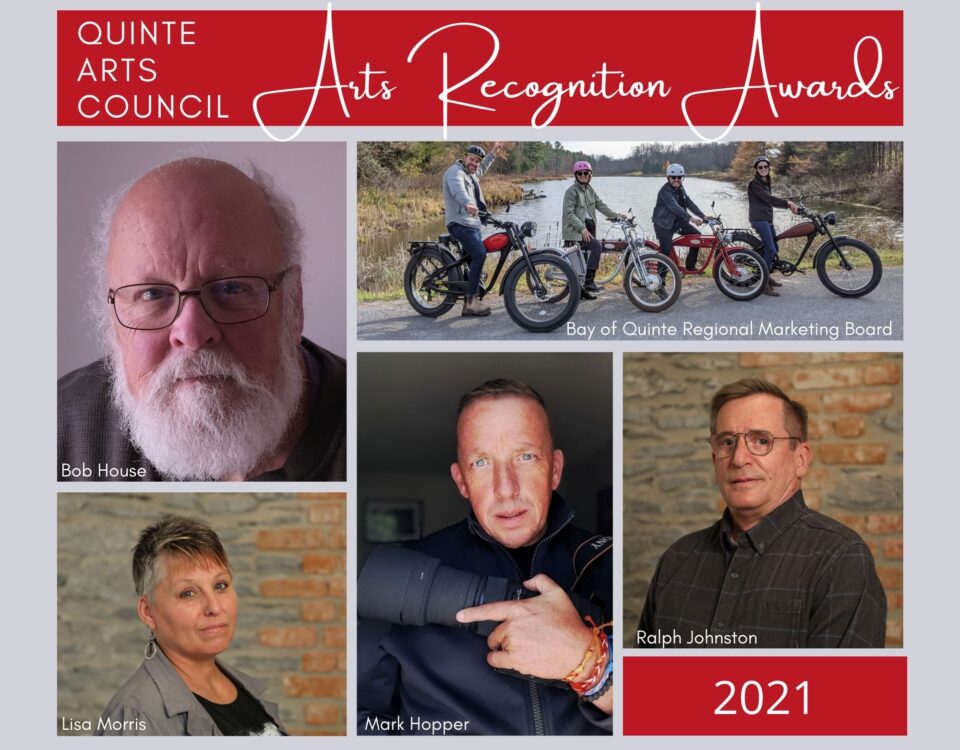 Each year, the Quinte Arts Council recognizes those individuals, artist groups or businesses for their artistic excellence, cultural leadership or contribution to the arts with our Arts Recognition Awards. They are celebrated at the annual Mayor's Luncheon for the Arts. 
Nominated from the community in 2021 were: 
Bob House is a Quinte-based photographer and believes the arts are for everyone. House ran a photography studio for 20 years and was a founding member of PhotoMatrix, a Director for the QAC Board and volunteered as the photographer for Quinte Ballet School of Canada.
Mark Hopper, a local photographer, has a signature style of stunning landscapes. He enjoys using his photography for good, donating proceeds of his annual calendar sales to the Christmas Sharing program, prints to long-term care homes and many local causes.
Lisa Morris is dedicated to making art accessible and uses it as a way to build community. She co-owned Artists + Artisans Gallery, a space for artists who may not have had the opportunity to show their pieces. Morris is currently the Director of House and of Visual Production at River & Main Theatre.
The Bay of Quinte Regional Marketing Board Team – Dug Stevenson, Jennifer Achilles, Trevor Norris, and (formerly) Courtney Klumper – advocate for the Quinte region while promoting events, activities for residents and visitors, and tirelessly supports the arts and inclusivity.
Ralph Johnston is a philanthropist and arts enthusiast. Johnston, along with his husband Tony Martin, provided much-needed support to help the QAC survive the pandemic. With lockdown restrictions making it impossible to open to the public, the support Johnston provided enabled the QAC to engage with the community from a distance.
The QAC is looking for nominations for the 2022 Arts Recognition Awards. Click here to nominate a local artist.
Nomination deadline is July 31, 2022.
Sponsored by McDougall Insurance.
---
---
---