Fall/Winter 2022
Beth Milligan
Overcoming adversity, finding creative inspiration
By Peter Paylor
Belleville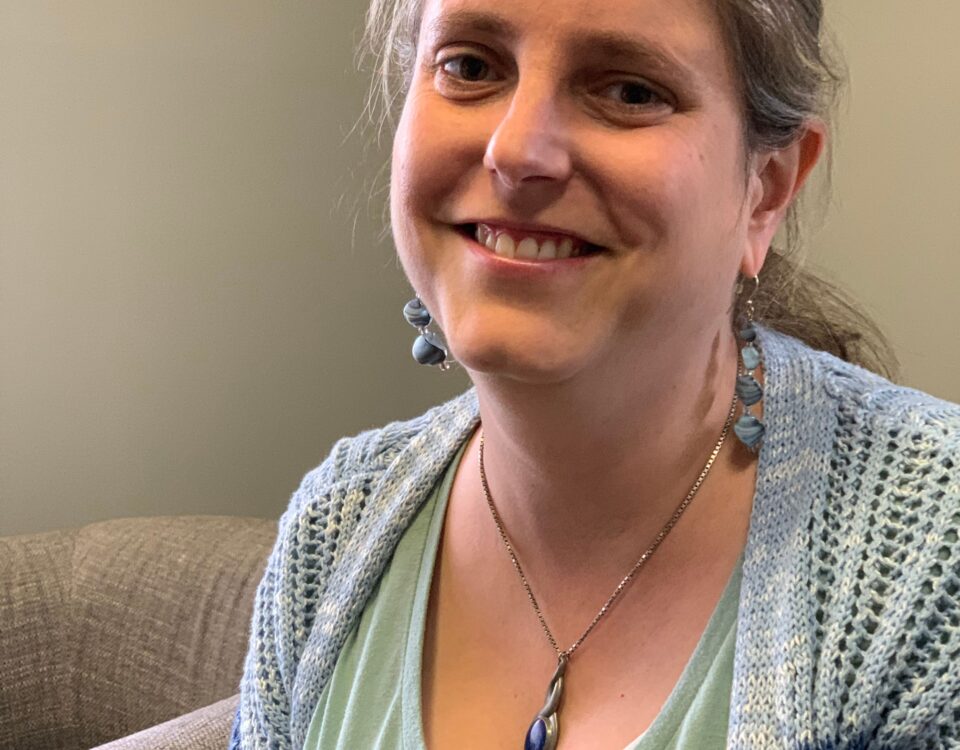 Beth Milligan can trace her roots as a playwright back to her years in the Arts Program at Centennial Secondary School (CSS) in Belleville.
She remembers one semester in particular. "I had two visual art classes, a script writing class, Director's Craft, drama class, and vocal music. It was awesome," she says. Milligan wrote Fragile Minds that semester with four of her classmates, a play about the history of Sir James Whitney School for the Deaf. She enjoyed writing, but visual art was her passion.
After graduating from CSS, Milligan studied Fine Arts, first at Bishop's University in Lennoxville, Quebec, then at Mount Allison in Sackville, New Brunswick. After graduating, she opened her own graphic arts business.
In 2011, Milligan started losing her vision. By 2013, she became legally blind and was diagnosed with retinitis pigmentosa and cataracts. She has been progressively losing sight ever since.
"I had to come up with a direction to go with my life that fit my circumstances. It forced me (but in a good way) to go back to script writing. All those fundamental drama, directing, and script writing skills that I honed in high school, that all pivoted towards me choosing to be a playwright."
In 2016, Milligan became one of the founding members of the Quinte Playwrights' Collective. "I started writing five-minute pieces, then ten-minute pieces, then twenty-minute pieces… it all kind of happened organically."
Several of Milligan's plays had readings at the Belleville Club. Another was produced at the Old Church Theatre near Trenton. Beatrice, based on the life of Beatrice Lillie, was one of the three winning plays in the City of Belleville Play Writing Competition. In the Spring, Beatrice had a reading at Theatre in The Wings in Belleville.
With support from the Canadian Institute for the Blind, Milligan took training on JAWS (Job Access With Speech), a program designed to make the writing process easier for people with sight loss, but the new technology was frustrating.
Milligan found it stifled her creativity to the point that she was ready to give up on writing. So, she went old school: she found a scribe. Meeting weekly, Milligan has since written a dozen short plays. "I find it very freeing," she says. "I'm able to concentrate solely on the creative process as opposed to listening to technology talk back to me."
Her latest project is a series of radio plays titled The Jackson Nash Mysteries. The first episode "The Mystery of the Dropbox" will debut as a podcast in November.
Milligan put the weekly writing sessions on hold briefly to travel to the Guide Dog Foundation in New York to meet and train with Mesa, her new guide dog. "It's been a life-changer," she says.
She is currently working on Episode Seven of The Jackson Nash Mysteries. "I feel like I've taken some side steps in my life that have been very helpful in terms of having creative depth and things to write about," Milligan says, "but I actually feel like I'm on the right path, and I'm doing what I'm supposed to be doing."
riverandmain.ca | guidedog.org
---
---
---