Fall/Winter 2022
Quinte's Heritage
Whiskey, log rolling, gold and war – we have history!
By Richard Hughes
Belleville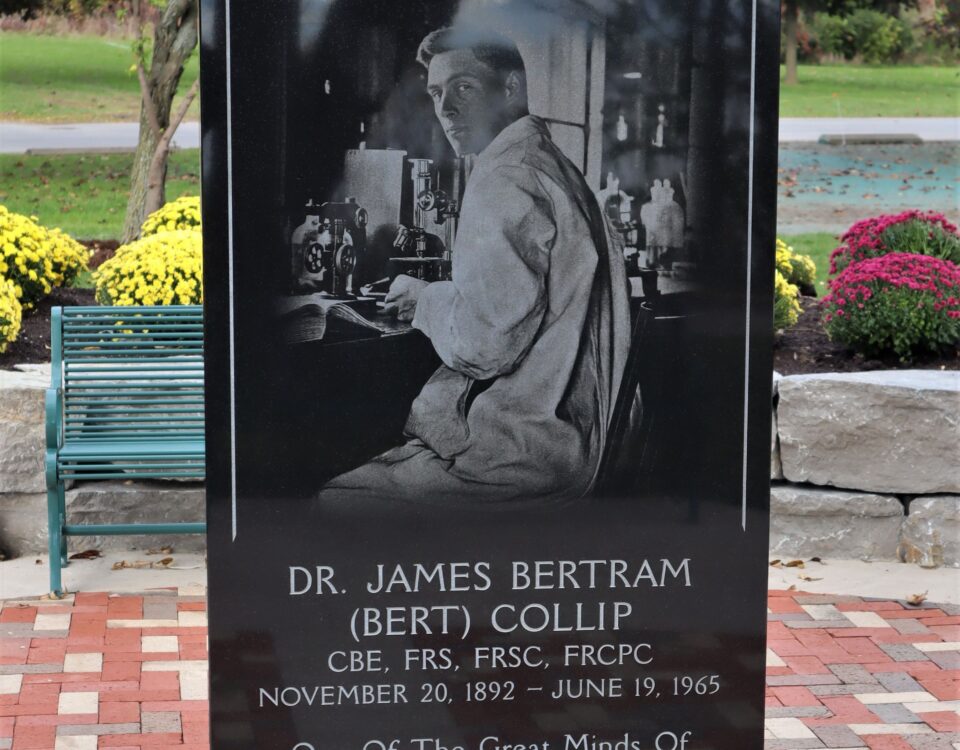 Stop by Myers Pier to enjoy the gentle waves on the Bay as lovely sailboats glide by, one foot resting on the great steel cleats by the dock. Imagine the rumrunners a hundred years ago, in their sharp suits and dark fedoras, supervising the loading of hundreds of cases of Corby's whiskey onto their boats, heading for the likes of Al Capone and the bootlegging gangs in the U.S.
History is so much more than streets and buildings and a river and a bay. Knowing the past brings an appreciation of the achievements, beauty and amazing stories the community has experienced. It brings a whole new dimension, adding energy to everyday locations, new understanding and a sense of identity or personal connection to the community.
On your stroll along the Moira River, imagine springtime in the late 1800s; violent waters rushing down from the north, with 100,000 logs crashing and tumbling on their way to the Bay listening to hundreds of French-speaking loggers moving them along – a wild scene.
On Pinnacle Street, note the grand Armouries fortress. Imagine hundreds of bright-faced young men in their new uniforms, ready for war, lined up in ranks and then marching to the train station past cheering crowds, wives and mothers tearfully waving good-bye.
Walk through the quiet village of Madoc and imagine the main street in 1866 jammed with thousands of prospectors burning with gold fever, arriving by horseback or the daily stagecoach from Belleville, confident that endless wealth awaits them.
History helps us understand society, culture and how all past activities shaped today's community. It teaches us that change and progress are normal and should be encouraged. 
There are economic benefits too. Historical sites and natural features are valuable assets, giving a location its unique charm or appeal that people want to see and experience. 
The grand homes in Old East Hill, Glanmore House, Prince Edward County museums, and the Central and North Hastings mining centres fascinate visitors. Family history researchers come from far and wide to experience the sites of their ancestors and visit their cemeteries.
Our history includes Mackenzie Bowell, who rose from junior clerk to owner of the Intelligencer and then to Prime Minister of Canada. Dr. Bert Collip, co-discoverer of insulin which has saved millions of lives. Susanna Moodie, pioneer author, whose books remain in print after 175 years. And Hastings and Prince Edward Regiment, the most decorated regiment of World War II.
In October, the community lost its greatest contributor to the development and appreciation of Belleville's rich local heritage. Mr. History, Gerry Boyce (pictured…) passed away, but his legacy will live on forever. Mr. Boyce researched and authored the region's definitive histories and brought these stories to the public. He inspired teams of volunteer researchers for six decades in gathering priceless historical documents, thousands of photographs, maps and memorabilia, leading to the creation of the Community Archives. Gerry Boyce was the source and inspiration for understanding and appreciating local heritage, and for this, we are eternally grateful.
hastingshistory.ca
---
---
---