Summer 2022
Docs, Dinner and Drinks
Student documentarians turn their cameras on local artists
By Peter Paylor
Film, Belleville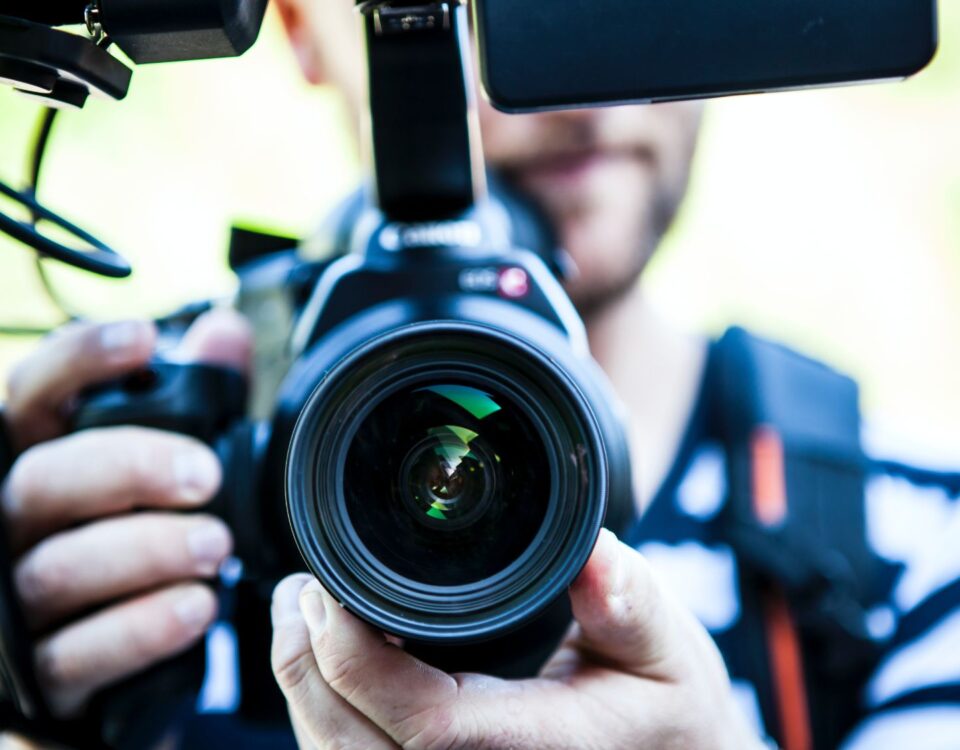 Graduating students from Loyalist College's Television, Filmmaking & Digital Content Creation Program take a course called Advanced Field Production, and while that may seem mundane, the results are anything but.
Paul Papadopoulos, who teaches the course, says: "They chase a story, they prepare the story in pre-production—preparing their questions, their script, pre-interviewing, and then they go and shoot the interview, get their B-roll, and they come back and craft the story further, edit, and then package it together so that it exists on the landing page of the website for that story.
"We've been thinking about how to lift the arts community and promote the arts community, so I've tasked the students this year with telling stories about artists in the community based off of stories that have been told in the Umbrella. They get their research right there. Here are the stories, choose one, you've got the basic info so when you contact them you know about them already to ask further questions. Now they've got a story that's easily accessible and the artists have a short documentary about their own story and what they do and how they got there."
Five of these stories were chosen to be screened at "Docs, Dinner & Drinks," a fundraiser for the Quinte Arts Council that was held in downtown Belleville in May.
"Piece of Mind" is a profile of Belleville mosaicist Karen Ritchey. "Obscura" turns the camera back on Sean Scally, an award-winning documentary filmmaker from Trenton. "Artistry in Adversity" follows tattoo artist, Jamie Williams, as she deals with COVID-19 lockdowns at her business, Picton Tattoo Club. "Forging a Legacy" tells the story of blacksmith, Amy Liden, and how she opened her own forge in Picton. "Coping Through Quilting" is a poignant look at Picton quilt maker, Bill Stearman, who opened up about his past to the young filmmakers.
"It's really interesting how a subject will open up to a stranger more so than close friends," says Papadopoulos. "So you get these really heartfelt, heart-warming stories that really make you…I choked up when I saw the Bill Stearman story. I think people will be touched by that story, and it's only a small part of who Bill is, but I think it was great that the students were able to get that great story out of him and that's something I'm really proud of."
Papadopoulos was excited about the opportunity for his students to interact with the public at the Docs, Dinner & Drinks event. "Students – young artists, documentarians are artists – showcasing local artists, it goes hand in hand perfectly. Our students get to feature their work in a public forum that focuses on their work as artists, telling their stories about artists in the region. It's a perfect mixture of what we do at the college and what we do at the Quinte Arts Council, promoting local artists. I think it's the perfect marriage."
Sponsored by Loyalist College
---
---
---