Summer 2022
Erin Thomas
Many hands in the making
By Janet Jarrell
Crafts, Belleville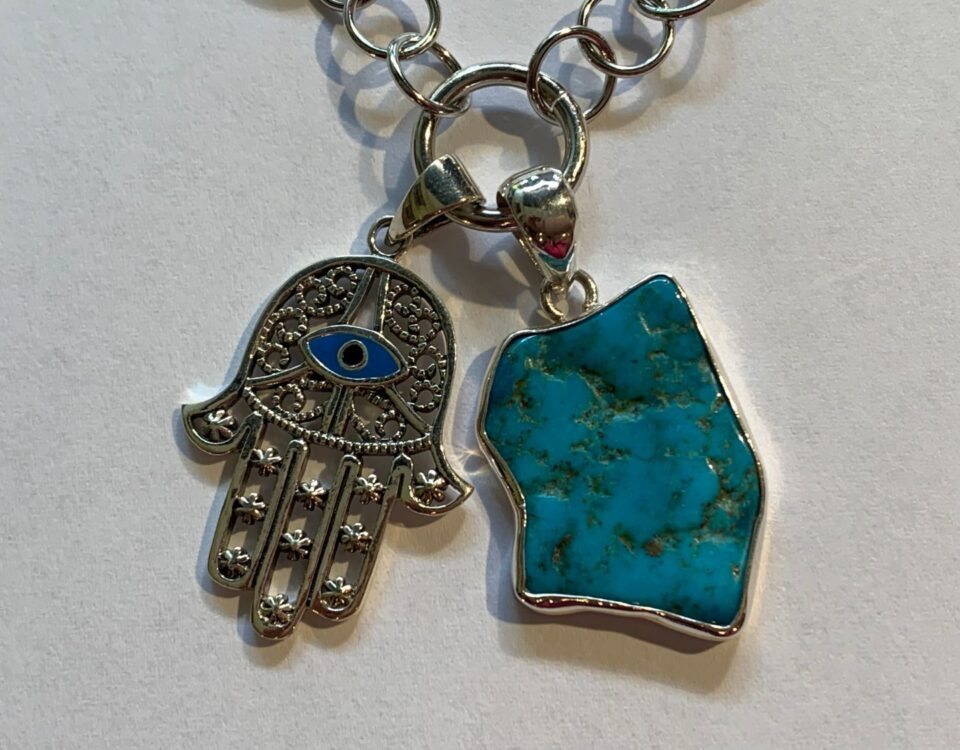 Universally, jewelry is an adornment we associate with status and rank. In prehistoric finds, it was made from bones, shells, and stones and some cultures wore jewelry for its protective power to ward off danger.
Erin Thomas, of Thomas Estevez Design in downtown Belleville, creates unique jewelry with sterling silver, stones, and crystals.
Although born in Canada, Erin lived much of her adult life in Spain and knows firsthand the history of the jewelry guild, working with the guild in Valencia from 1991 to 2007. In Medieval Europe, merchant, trade, and craft guilds were formed protecting artisans and related trades. These associations of craftspeople became extremely powerful and dominant with political influences and interactions with wealthy patrons of the arts. The guilds followed stringent guidelines; the processes were strictly regulated and controlled to protect the quality of the craft and integrity of the members. The more important and complex the trade, the longer the apprenticeship – for silversmiths, that meant six years under a master.
This was a time when artisans focused on perfecting one craft; therefore, one piece of jewelry meant many hands in the making. There is an art to this process, a flow of energy from one artisan to another and a true sense of pride in craft.
It starts with a designer who makes a drawing with specific measurements (specs) – a life-sized design enlarged from all sides. Then a model maker builds a metal model that will be made to the specs of reduction; "this metal model is called 'the original', so, there's a lot of math involved here, and everything has to be considered within a millimetre of accuracy because there are always losses of mass and the stone setting will not work unless all this is calculated," notes Thomas.
Then the original goes to the mould maker and cutter, after which the mould is brought to the wax injector. Continue to the meltdown centrifugal center, which both builds what is known as a tree of waxes and then injects molten spinning metal into that cylinder. "If this is not done perfectly, the metal will be "sour" and break if there are bubbles. They must know what they're doing; any dust will also ruin the piece," says Thomas.
Then the repasser gets the rough pieces of metal from the wax tree, who files, refines and solders the piece without "eating it", keeping the original shape intact. The rough piece and stones are taken to the stone setter, then the polisher, who passes it onto the flash plater "who puts down a microlayer of pure silver 999 to cover pores, or rhodium finish or gold finish or a combined bi-colour finish', says Thomas.
Finally, the last hand is the industry stamper, who tests and marks the silver mark and design mark to be stamped onto the piece.
"The designer oversees the entire process and takes the evolving piece of jewelry to each address and if any worker has done a less than a good job, the subsequent worker will refuse to work on the piece. It is up to the designer to keep the team tip top and happy. So, the designer needs all these technicians and must be able to do or at least deeply understand the work of the tech people."
"In Europe, the tech people are shared by the guild and the best ones are in high demand. Sadly, since globalization, the Spanish guild has almost completely dissolved."
---
---
---