Fall/Winter 2022
Susan Wallis
Pause in nature and bring mindfulness into the creative process
By Lin Parkin
Prince Edward County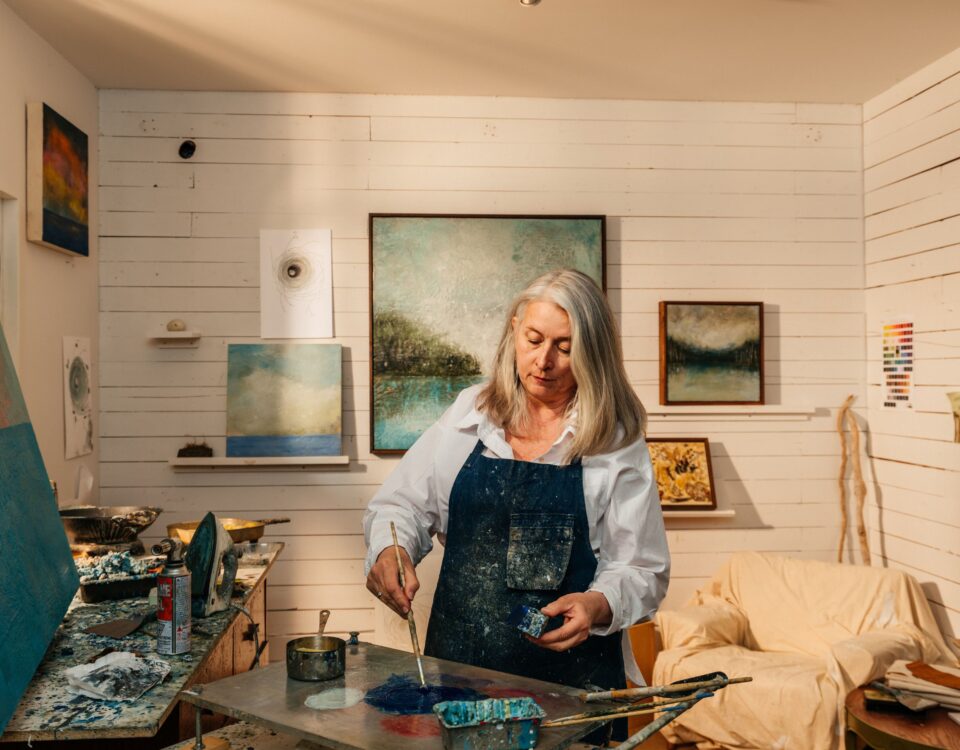 Last summer, when many artists were emerging from isolation and showing their work in galleries again, encaustic artist and entrepreneur Susan Wallis took on a new artistic venture.
Choosing the old officers' barrack at Base31 in Picton, Wallis opened the doors to Melt Studio and Gallery in the spring of 2021. The decision to open her own space was also influenced by funding she received from the Federal Economic Development Agency for Southern Ontario to begin offering a new art project.
"During the pandemic, my husband and I started taking more walks. I noticed that during and after these walks, I felt both physically and mentally better." Wallis explains, "I was able to come back into my studio more refreshed and inspired. I pondered how I could share these feelings of connectedness and renewal through nature with others."
With 20 years experience, Wallis is regularly called upon to teach encaustic classes but has always shied away from it. Inspired by the book Braiding Sweetgrass: Indigenous Wisdom, Scientific Knowledge, and The Teachings of Plants by Robin Wall Kimmerer, she thought, "What if it wasn't simply an art class, but rather an art and nature experience?" 
Wallis began exploring the idea of experiential tourism, a.k.a immersion travel, where people focus on experiencing a particular place by actively and meaningfully engaging with its history, people, culture, food and environment. During the pandemic, she took workshops on experiential tourism and received the seed money from the government.
And PAUSE was born.
"I think everyone should spend more time in nature. But for an artist, I feel it helps us to cleanse the eye and humble the hand so that when we return to the studio, we are in some way renewed," she says. "I came across this anonymous quote that I feel best describes this importance of immersing oneself in nature: 'And into the forest I go. To lose my mind and find my soul'."
The PAUSE experience begins with a mindful nature walk and then the creation of the artwork. Participants are taken on a guided tour of Beaver Meadows Conservation area or Honey Pie Hives and Herbs. Wallis says, "A knowledgeable herbalist assists us in identifying plants and discusses their medicinal value along with some folklore of days gone by."
Participants head back to Melt Studio to be instructed by Wallis, where novice and experienced artists alike create a one-of-a-kind encaustic collage made up of items gently harvested on their walk.
When asked of her most memorable moment, Wallis says, "It's the ta-da! moment at the end when we take their encaustic collage and frame it before their eyes. They are always so pleased with their outcome, and I am always so impressed with the individuality of each piece."
"My goal is that when the participant is back in their home engulfed in their busy lives, as they pass by their encaustic collage hanging on their wall, they will recall their PAUSE experience and will hopefully remember to PAUSE in their daily life."susanwallis.com | meltstudiogallery.com
---
---
---