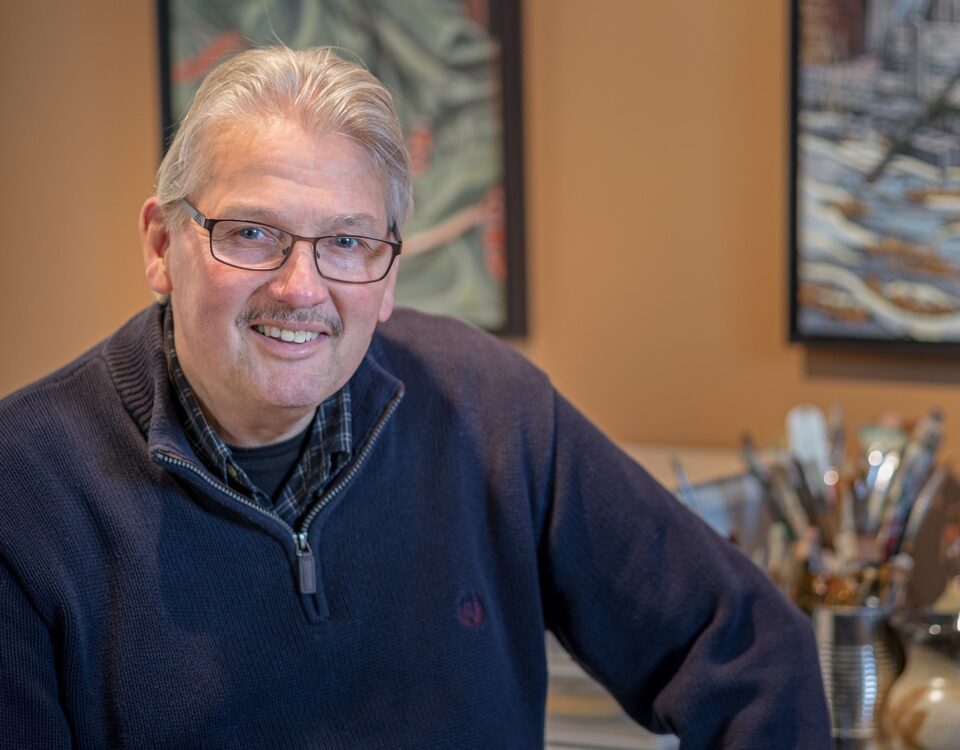 Retired art teacher and long-time member of the Greater Napanee and Area Art Association (GNAAA), Tim Nimigan, was the recipient of a Lifetime Achievement Award, given by the Napanee Municipal Arts and Culture Advisory Committee in June of 2022. Looking at his creative resume, it doesn't take long to see how dedicated he is to his community. When asked why community is such a big part of his art through the years, he explains that it is the heartbeat of his love of creating.
That pulse is seen in his signature comic strip of almost 20 years, Our Town, for the Napanee Beaver newspaper where Nimigan uses kind humour, poking fun at everyday happenings in a small Canadian town. The pulse is also in his public art initiatives like the 'Pallet'able Art Program – bright street art painted on wooden pallets found all throughout the community. That pulse continues as he spearheads the Implemental Garden Project with the GNAAA – this creative project uses garden tools as a canvas for the artists which are then displayed in public gardens. 
"No man is an island," he states. "As an artist, we can spend a lot of time alone" but for him, it helps to be with people. Nimigan is a social being and surrounds himself with people, places and things to be inspired by, and in turn he hopes to inspire them back. He is wired with community in mind.
Longevity has been a big part of his goals, even early on. "I was particular about wanting to remain a practicing artist while teaching," he notes. When it came to his students, teaching by doing was how he wanted to encourage them. He set that example by participating in several art shows every year. Nimigan stayed continually active in local art initiatives over the years because his driving force to his students was to inspire them.
When asked if he will continue to create, he said that ideas are in the back of his head for future local art projects, and he is not slowing down anytime soon. He is painting, as always, and getting ready for juried shows. He is a Greater Napanee Area Art Association member and has upcoming community art lined up. Nimigan is as busy as ever and states, "I don't sit around." 
It seems that at the rate of how involved he is with future plans already lined up, Nimigan may need a second lifetime achievement award very soon.
Photo Credit: Dan Fleury
---
---
---