Fall/Winter 2022
Metis artist Tracey-Mae Chambers
Past meets past meets present 
By Ardith Racey
Belleville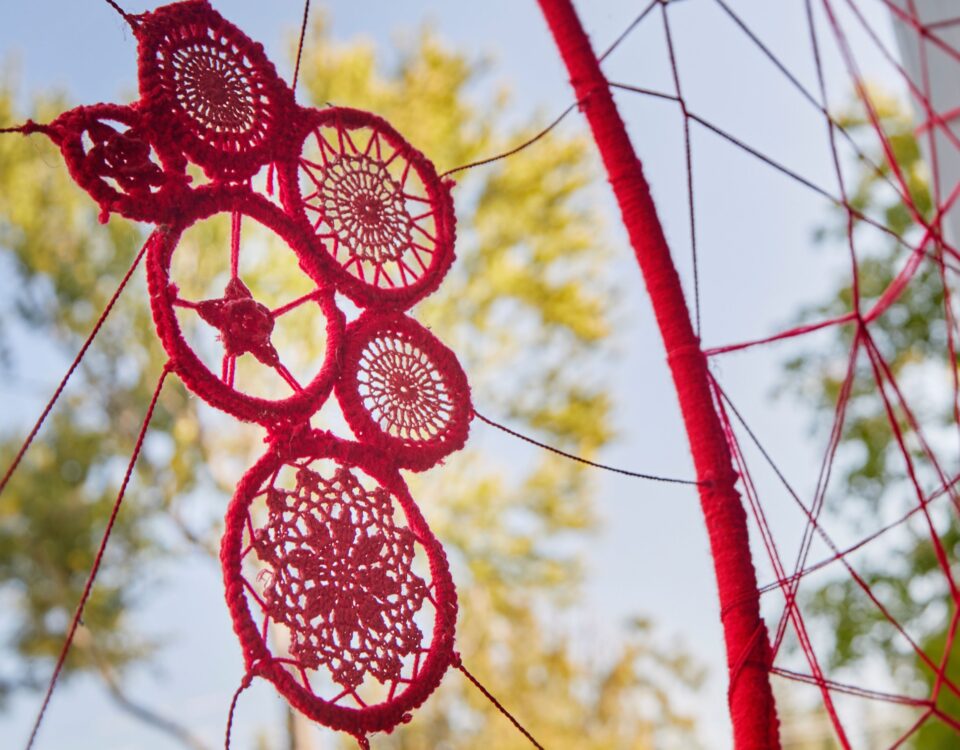 Art installations are typically designed to change our perception of space or place, but the summer installation at the Glanmore National Historic Site was an attempt to reconcile the pre-Colonial past with the Victorian past and with the present.
Metis artist Tracey-Mae Chambers' yarn-art installation, part of a national project titled Hope and Healing Canada was "an effort to recalibrate our collective histories and stories," says Danielle McMahon-Jones, Exhibit Developer Coordinator at Glanmore House. She viewed the project as a "perfect way for a national historic site to be part of a cultural shift that asks us to think about what happened before Glanmore was built." 
She says, "the museum world is collectively trying to shift its interpretation of history to address decolonization and reconciliation because there's so much history that's invisible; so much history that's before the house." 
In June, Chambers created the installation on the veranda at Glanmore during National Indigenous History month to create conversations and respond to the discoveries of the remains of Indigenous children buried at Residential Schools.
To date, she has completed 104 similar installations at various 'museums, galleries, universities, public spaces and former Residential Schools' all across Canada. When McMahon-Jones was contacted by Chambers, she and Jennifer Lyons, Manager of Museum Services, were delighted to house the exhibit because they "loved the message she was bringing." Reactions from the public have been "overwhelmingly positive" because it has "an impact on so many levels," says McMahon-Jones. 
No doubt this is because the piece, as art, works on so many levels. Together with the blood and teardrop symbolism, the dreamcatcher motif further emphasizes Indigenous history, and the webbing mimics the natural world of spiders. "Everything is intersected," says McMahon-Jones, "so the piece is symbolic of what Chambers is trying to say about how we can heal through art, and the need to shift our interpretation of our collective histories." 
Chambers describes the piece as "being kind of like the porch because it's looking into the window into the house from an Indigenous lens." The window as a lens perspective allows viewers to see inside the house, which celebrates an opulent Victorian past, to 'look' through an Indigenous lens and into the natural world.
This idea is echoed by McMahon-Jones' thoughtful observation that it became home to spiders, dandelion fluff, and leaves. "It weathered several severe storms. The nature of museums is to start with the house, with settler stories, but there's a larger story that reverberates–that's invisible because there aren't objects in the house to tell that story, which is the story of decolonization," says McMahon-Jones. 
McMahon-Jones would love to have Chambers do another installation and is also open to other artists, travelling exhibits, local artists, and partnerships with the community. "'Hope and Healing Canada' was just such a great message and a priority for Glanmore," she states enthusiastically.
The installation leaves an enduring message that resonates on many levels, marrying peoples, past traditions, and the environment through a powerful collaboration that addresses a bigger picture about our collective past and present.
glanmore.ca
---
---
---